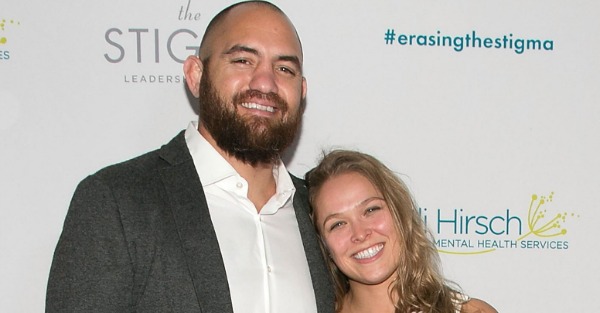 Twitter via ShowBizWorldOne
Ronda Rousey gave her first hint of what retirement would be like during a tearful interview on the Ellen DeGeneres show.
She said her 2015 loss to Holly Holm affected her so intensely she had suicidal thoughts afterwards.
But she also said her devastation was eased by her boyfriend, Travis Browne, a UFC fighter in his own right.
"I was literally sitting there and thinking about killing myself, and that exact second I?m like, 'I?m nothing. What do I do anymore? And no one gives a shit about me anymore without this,'" Rousey said. "To be honest, I looked up and I saw my man Travis was standing up there and I looked up at him and I was like, I need to have his babies. I need to stay alive."
Browne famously announced the two were together when he made this statement in October, 2015:
?Dating is for children. Dating is for kids. Over the summer, through all the shit that I had to shuffle through, that I had to sift through, Ronda and I started talking throughout the summer and I?ll say now that we are together,? Browne, 33, said. ?She?s my woman and I?m her man. There?s no boyfriend, girlfriend stuff. There?s no dating. We?re together.?
Since then, the couple have been met with a lot of vitriol. UFC fighter Ben Rothwell ripped into Browne on a recent radio appearance:
"…he?s one of those guys that?s just a man-whore. He?s a phony, and a lot of (expletive) pisses me off with him. Why did you suddenly leave a great camp that made him good and move to a (expletive) gym that?s got a lot of guys losing? For me, I think it was a financial thing. He went there and found a sugar mama in his girlfriend. He?s just looking to get himself taken care of…?He?s got some brains in, like, ?Why should I fight? I?ll just get her to pay for everything.? It?s a good financial move on his part, but it hasn?t done his personal career any good and a lot of people think the guy has regressed and he?s not getting any better. He?s lost his footwork, he?s lost a lot of different things that made him good."
The couple has had to contend with all sorts of rumors, like this doozy (that turned out to be false) put forth by her rival, Chris "Cyborg"Justino, about why she hadn't returned to the octagon (that's clearly not Travis Browne in the tweet):
Every now and then, that nastiness can get under Browne's skin. He wasn't happy when Rousey's ex-boyfriend accused him of being a money-grabbing yes man who's riding the coattails of someone more famous. "I?m too much" of a man, her ex, Brendan Schaub, told a podcast. "She needs a guy who?s gonna take a backseat. That?s not me. She also needs a guy that?s gonna say, ?Yes, ma?am. Yes, ma?am.'? (It should be noted that Browne beat Schaub in the octagon).
Browne was furious when a fellow fighter mocked his new love following her loss to Amanda Nunes.
And his response — a tweet that has since been deleted — was angry, to say the least:
But for the couple, there's one thing that matters — they seem happy, and Rousey has a man she considers a rock to be with her and help her through the tough times.