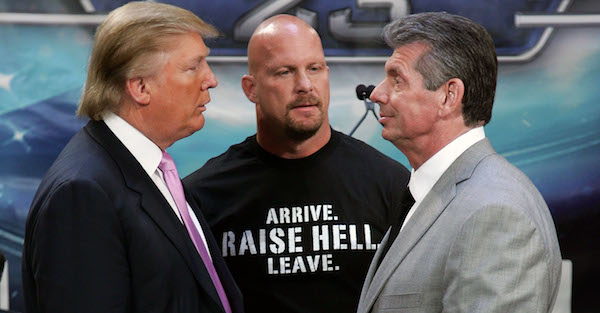 Bryan Bedder/Getty Images
attends the press confrence held by Battle of the Billionaires to announce details of Wrestlemania 23 at Trump Tower on March 28, 2007 in New York City.
The McMahon family and Donald Trump have a special relationship.
From hosting WrestleMania IV in 1988 before hosting again at WrestleMania V, Trump has stuck by Vince McMahon's side from the beginning. So at WrestleMania XXIII in 2007, in a match billed the Battle of the Billionaires, Trump was willing to let to do whatever it took to put the business first, via "Stone Cold" Steve Austin, per Complex.
The plan was for the Hair vs. Hair match to end with Bobby Lashley going over Umaga, which meant Trump would shave McMahon's head. That's when McMahon reportedly came to Trump with the idea that would blow the lid off Ford Field in Detroit, Michigan.
?Vince says to me, ?Steve, I?m going to see if I can get Donald to take the Stunner,?" Austin recalls, referring to his signature finishing move, where he kicks an opponent in the gut then performs a sit-down jawbreaker. "I said, ?you think?? He says, ?Oh yeah, it?ll be great, it?ll be great.? He goes up to Donald and says, ?Hey Donald, this is Stone Cold Steve Austin.? I shook Donald?s hand. He goes, ?Listen, I want to know if after the match, when everything is done, if Steve could hit the Stone Cold Stunner on you.? Donald says, ?You think it?d be a good thing?? and Vince goes, ?Oh, of course it would be. It would just blow the roof off the place.? And Donald?s right hand guy was saying, ?No, no, no! You don?t need to do this, we got other things to do!? He?s trying to talk him out of it. And Donald says to Vince, ?You think it?ll help?? and Vince goes, ?I promise you it?ll help.? And Donald says, ?Okay, I?ll do it.?

Austin pulled it off seamlessly, leaving Trump splayed on the mat, but it wasn't one of his best. "It wasn?t a picture-perfect stunner," Austin says, "but I give Donald Trump a hell of a lot of credit for being a man. He was a stand-up guy, he was there to do business and we did business, so I respect the man for that. If I see him giving a speech on the TV, I don?t think, ?Hey, I gave this guy a stunner.? We were doing business and we did business. The fact that he is going to be the next President of the United States, it?s a hell of a story.?
And the rest was history.
Trump was inducted into the celebrity wing of the WWE Hall of Fame in 2013.
Trump was officially sworn in to become the 45th President of the United States on Friday, January 20.