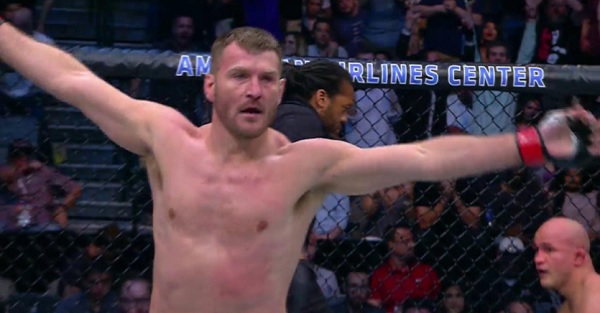 Twitter/UFC Europe
Well this didn't last long!
UFC Heavyweight Champion Stipe Miocic (17-2) retained his title at UFC 211 on Saturday night over Junior Dos Santos (18-5) after a first round TKO in 2:22.
Dos Santos tried to cut down Miocic early with some strong kicks to Miocic's left shin, but Miocic was eventually able to bring the power and hit Dos Santos with a brutal right hand to sent Dos Santos to the grab. After a few more punches on the ground, referee Herb Dean eventually called the fight for Miocic.
Miocic is now on a five-fight win streak and he has successfully defended his title twice, becoming only the sixth UFC heavyweight to successfully defend the championship in consecutive fights.