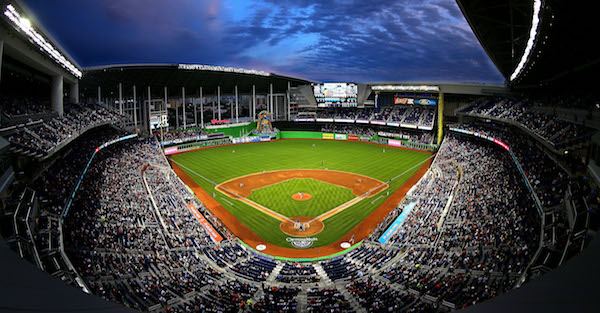 during Opening Day at Marlins Park on March 31, 2014 in Miami, Florida.
https://twitter.com/YomarELMAJA/status/738929941195063296
Boxing legend and arguably one of the greatest athletes to ever live, Muhammad Ali, passed away late Friday night, and the first to report it was (shockingly) the Miami Marlins.
After Ali was hospitalized on Thursday, it was reported the famous boxer was in grave condition. At the conclusion of Miami's 6-2 loss to the New York Mets, a memorial graphic rolled across the team's scoreboard. And according to the Miami Herald, it was by no accident.
?It was not an error,? Marlins president David Samson said. ?We were informed by someone close to the family that he had passed away. We wanted to get a tribute out as soon as we possibly could.?
Two hours later, it was confirmed — Ali has passed away at age 74.