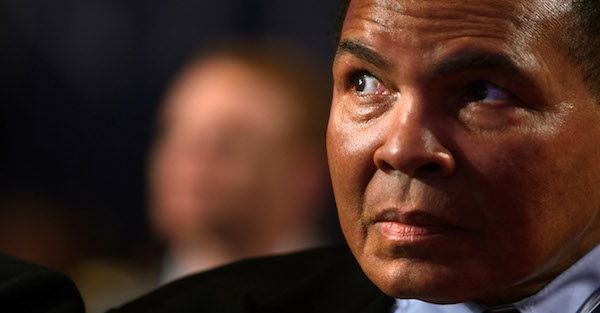 Spencer Platt/Getty Images
NEW YORK - SEPTEMBER 24: Muhammad Ali attends the opening session of the Clinton Global Initiative (CGI) September 24, 2008 in New York City. President Clinton is hosting the fourth annual meeting of the Clinton Global Initiative (CGI), a gathering of politicians celebrities, philanthropists and business leaders to discuss pressing global issues. (Photo by Spencer Platt/Getty Images)
Muhammad Ali Jr., the son of the boxing legend, says he was detained at the Fort Lauderdale-Hollywood International Airport for about two hours and asked questions about his religion, according to a report in the Miami New Times.
Ali Jr., 44, was traveling with his mother, Khalilah, when they were stopped after returning from Jamaica, the New Times reported. The newspaper said Khalilah, who was Ali's first wife and married to him 10 years, wasn't detained because she showed officers a photo of herself and the former boxing champ. The elder Ali died last year.
Ali Jr., who has no criminal record, was traveling on a U.S. passport.
President Donald Trump, in January, signed an executive order that temporarily banned travel from seven predominately Muslim countries and suspended worldwide refugee entry into the United States. Courts have overturned the ban, but a former federal prosecutor and friend of the Ali family said it's clear it's still being enforced in some areas.
Chris Mancini, a former federal prosecutor, angrily ripped the detention and questioning, calling the treatment of Ali Jr. an "outrage," and told the New Times:
"What right does the United States have to inquire about somebody's religion when they enter the country? There was no other basis for a secondary inspection. This is an instance where the ban has been enforced even though it has been thrown out. The government is still trying to find grounds to keep Muslims out."
The U.S. Customs and Border Protection declined to comment on Ali Jr.'s specific case.