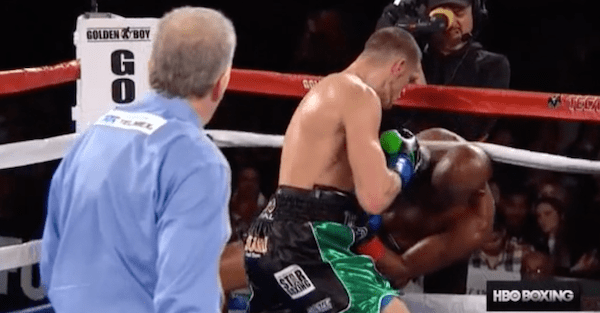 Streamable screenshot
Bernard Hopkins is a true boxing legend. Look at some of this records and accomplishments:
He's the oldest fighter (age 45 years, 337 days) to win a world title when he beat Jean Paschal in 2010 for the light heavyweight title.
He's the oldest fighter ever to retain a championship belt when he beat Beibut Shumenov (age 49 years, 94 days ) in a light heavyweight championship match.
He's beaten the best of his generation, including Roy Jones Jr., Oscar De La Hoya, and Antonio Tarver, to name a few.
So on Saturday night, Hopkins climbed into the ring one last time, four weeks shy of his 52nd birthday, and some two years since his last bout. He took on a Long Island, N.Y. construction worker named Joe Smith, Jr. who (1) wasn't born when Hopkins started fighting in 1988 and (2) couldn't carry the former champ's mouthpiece when he was in his prime, and (3) was 24-years younger(!)
Things didn't go well.
Smith, who came into  the fight 22-1, pummeled Hopkins in the 8th round so badly the former champ wasn't only knocked out, but knocked out of the ring. Under the rules, a fighter knocked out of the ring has 20 seconds to get back in, but  Hopkins didn't make it. The ring announcer later said Hopkins was injured when he fell out of the ring.
It was the first time in is career Hopkins has been knocked out.
Really, the ending to this boxing career isn't much different from all of the other greats who thought they could defy father time one more time — and painfully found out  no one can.
The ending was eerily reminiscent of another great fighter's inglorious end of his career — when the great heavyweight, Joe Louis, was knocked out of the ring by Rocky Marciano.
http://www.youtube.com/watch?v=h9N8IxjNwaw
Still, Hopkins, at the end of an amazing 28-year career, finishes at 55-8-2. Let's hope he stays retired.