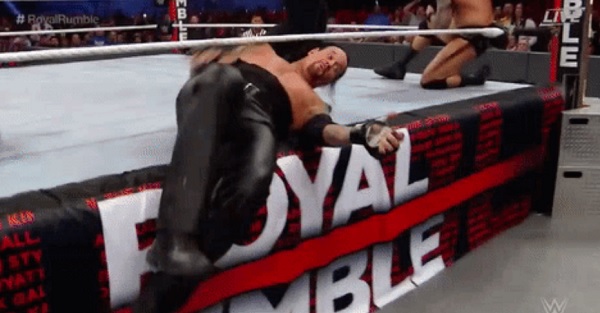 WWE Network
The Undertaker has been a feature of WWE's annual WrestleMania event for years, but some are questioning his status for WrestleMania 33 in Orlando after a report on his health after the Royal Rumble.
"So Undertaker, he was hurting real bad last night," said pro-wrestling journalist Dave Meltzer on Wrestling Observer Radio. (subscription required) "I mean you could look at him and you could see that he wasn't in shape, and you know, it's the hip."
Related: Rumor: 9-time WWE champion reportedly set to retire
Undertaker had hip surgery last year, which was severe enough to leave the "Deadman" on crutches over the summer. Undertaker had made a few television appearances since then, but the Royal Rumble was the first time he got physical in a match since his match at WrestleMania 32 against Shane McMahon. It appears that the match — of which Undertaker participated in for eight minutes and took this uninspiring fall over the ropes — took a toll that left the WWE legend in rough shape.
"He's got two months before WrestleMania," Meltzer said. "He had surgery. He came back too quick from surgery, I think that's pretty clear."
Undertaker, 51, is reportedly set to face former WWE champion Roman Reigns at WrestleMania in Orlando, but it's possible that his status could be affected if the injury proves to be too much to handle. Undertaker matches at WrestleMania are generally slower and more methodical to accommodate his age, and it's possible that WWE could pull off enough smoke and mirror to work around an injury to have a match. The Undertaker has worked through big injuries often in his career, so he may give it a shot, but if it's this bad… then future plans could be in doubt for one of WWE's biggest attractions.