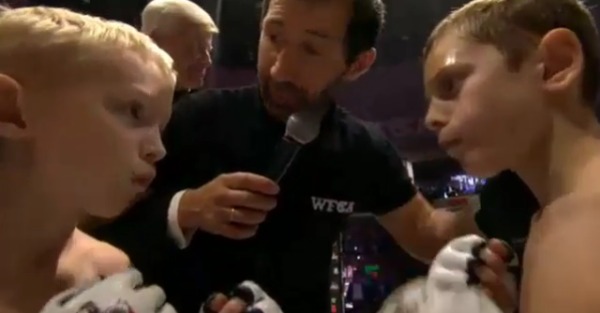 Instagram screen shot
This won't do anything for Russia's reputation.
Chechen leader Ramzan Kadyrov entered his three pre-pubescent sons—Akhmad, 10, Eli, 9, and Adam, 8—in an MMA event, much to the displeasure of the Russian MMA community.
RELATED: Think your kid should play pee-wee football? Watch this hit then decide
The three boys reportedly wore no headgear while suffering blows to the head. Kadyrov drew even further outrage by posting the video of the bouts to his Instagram account.
https://www.instagram.com/p/BLJ4lTiAtZI/?taken-by=kadyrov_95
Russian MMA union head Fedor Emelianenko called the act unjustifiable.
"What happened at the tournament in Grozny is unacceptable and, moreover, cannot be justified," Emelianenko, said via the Associated Press. "There were little ones, eight years old, punching each other in front of happy adults. Is it really so important for you to organize a spectacle at the cost of children's health?!"
Presidential spokesperson Dmitri Peskov confirmed via The Moscow Times  that the televised event would be investigated by the "relevant authorities" after one of the fights ended in a technical knockout.