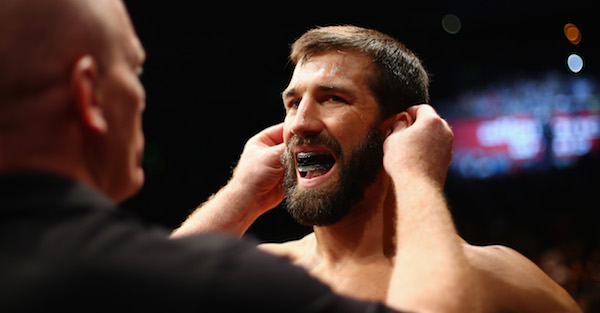 SYDNEY, AUSTRALIA - NOVEMBER 08: Luke Rockhold of the USA prepares to face Michael Bisping of England in their middleweight fight during the UFC Fight Night 55 event at Allphones Arena on November 8, 2014 in Sydney, Australia. (Photo by Mark Kolbe/Getty Images)
UFC 199 needed a new opponent after Chris Weidman pulled out just over two weeks prior to his rematch against Luke Rockhold for the middleweight title.
Related: Michael Bisping's foot injury is stomach turning
Michael Bisping, a man who almost never turns down a fight, took to Twitter as an alternative. UFC President Dana White listened, and Bisping will now have an opportunity to avenge the only fighter he's tapped out to.
https://twitter.com/danawhite/status/732983324583546880/photo/1
Rockhold and Bisping have had their fair share of words tossed at each other, and this one should be a doozy.
Rockhold (15-2) has won five straight fights and will look to keep that streak up when he meets Bisping (29-7) in the Octagon on Saturday, June 4 from The Forum in Los Angeles, California.