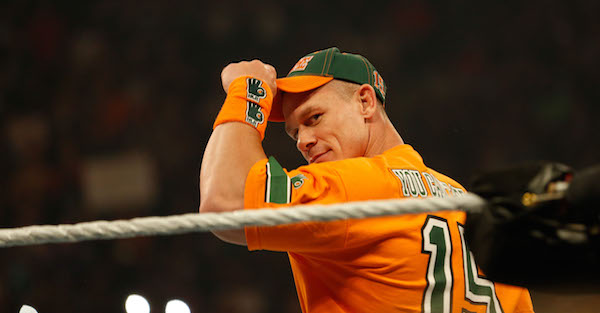 JP Yim/Getty Images
NEW YORK, NY - AUGUST 23: John Cena enters the ring at the WWE SummerSlam 2015 at Barclays Center of Brooklyn on August 23, 2015 in New York City. (Photo by JP Yim/Getty Images)
There have been plenty of rumors over the last handful of weeks that John Cena would drop the WWE championship at Elimination Chamber (he did) and jump right into a mixed gender rivalry with the Miz and his wife, Maryse.
At Elimination Chamber, before Miz and Cena squared off, WWE may have planted the seeds for the rivalry in their buildup to 'Mania.
It wasn't much, but during Nikki Bella's backstage brawl with Natalya, Maryse just happened to be in the way.
Miz was pinned by Cena during the main event before the champion was taken out by eventual winner Bray Wyatt.
We'll see what happens on Smackdown, but current rumors have Cena and Bella winning at the year's biggest event before the longtime boyfriend proposes in his girlfriend's WWE sendoff.
What's better than a WWE proposal on the grandest stage?
Let's just hope Jake "The Snake" Roberts isn't invited to the potential wedding: