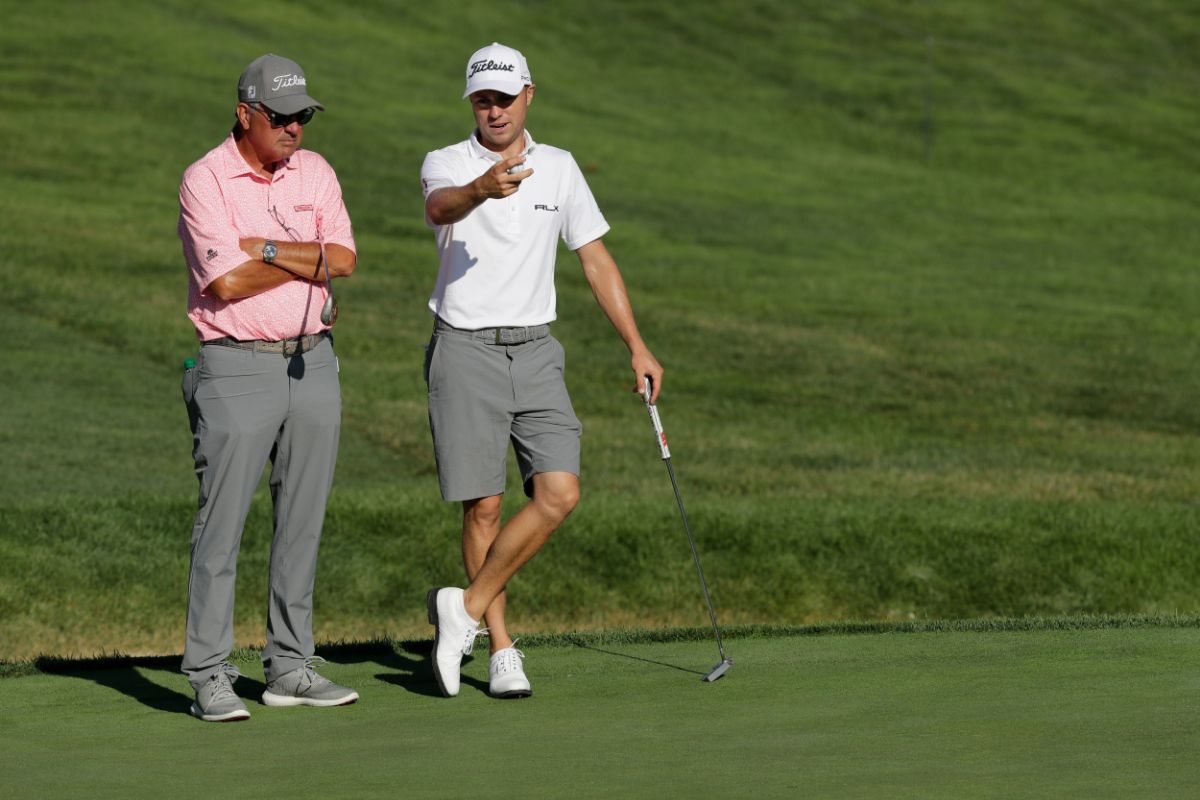 AP Photo/Darron Cummings
Justin Thomas has fast been rising through the ranks of the golfing world, boasting one major championship victory and 13 PGA Tour event wins. The 27-year-old currently ranks as the No. 3 golfer in the world, trailing only Dustin Johnson and Jon Rahm on the OWGR leaderboard.
So, just how did Thomas reach this level of stardom? Well, a lot of credit needs to be shown to his father Mike Thomas, who has been there with his son through every step of his esteemed career on the golf course, and is a former professional in his own right.
Justin Thomas' Dad
RELATED: Rory McIlroy Met His Wife After She Saved Him From Missing a Tee Time
Mike Thomas, much like Justin, was inspired to play golf by his own father, Paul Thomas. Paul was a renowned golf teaching pro in Ohio. Mike was formerly a PGA of America professional, but now works as a head pro at Harmony Landing Country Club in nearby Louisville, Kentucky, and is frequently traveling between Justin's PGA Tour events and Goshen, where he teaches.
In an interview with PGATour.com, Mike discussed the incredible drive and passion Justin displayed during his youth, citing how his son would spend upwards of eight hours per day practicing golf. When it came to other sports, forget it. Mike recounted a funny anecdote regarding his son's basketball ability, during which he told his wife Jani that Justin was simply "not good."
"I love him, but compared to these guys he's got no chance. Now, he's athletic enough, he'll put it up, but he doesn't have the skill set to bounce a pass or to go – he would not go in there where people were inside. He's never going to be able to do that… But I'll tell you what: Nobody out on that court is going to hit a 3‑wood to a tucked pin over water like he is."
Well, fortunately for Mike, that realization eventually dawned upon Justin, and clearly choosing to stick to golf has paid dividends.
The pair will be participating in the 2020 PNC Championship in Orlando, Florida where they're listed as the favorites to win the golf tournament on Dec. 19-20. The tournament will be broadcast via NBC and the Golf Channel.
Justin Thomas Career
Thomas turned professional in 2013 and earned his first victory on the PGA Tour in 2015 at the CIMB Classic in Kuala Lumpur, Malaysia.
In 2016-17, Thomas broke out and earned PGA Tour Player of the Year after earning victories at the CIMB Classic, SBS Tournament of Champions, Sony Open, PGA Championship (his first major victory) and Dell Technologies Championship. He became the fourth golfer ever to win five events in one PGA Tour season, joining Tiger Woods, Jack Nicklaus and Jordan Spieth. He would become FedEx Cup champion after finishing runner-up at the Tour Championship.
In 2018, Thomas briefly dethroned Dustin Johnson to become the world's top-ranked golfer after a strong season that saw him earn two victories and feature in a wild sudden-death clash with Phil Mickelson at the WGC-Mexico Championship.
To arrive at the sudden death playoff, Thomas had scored an eagle to finish his final round, but missed a birdie putt against Mickelson. He also featured on the 2018 U.S. Ryder Cup team that lost to Europe.
While Thomas has yet to record another major championship victory, he's performed well and has accumulated 13 PGA Tour wins.
No matter who Thomas is taking advice from, be it his father Mike or his caddie Jimmy Johnson, Thomas is constantly seeking to refine his craft and improve his game.
With his father acting as his swing coach and playing a significant role in his career for the foreseeable future, look for the 27-year-old to continue dominating on the golf course, swinging golf clubs and launching tee shots onto the fairway with precision.