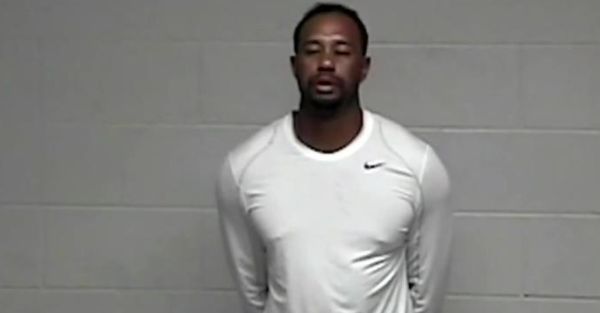 Palm Beach Post via Twitter
Tiger Woods told police he was taking Xanax and four other medications on the night he was arrested for DUI, according to a police report obtained by the Golf Channel.
Police have previously released a redacted version of its report from the night of Woods' arrest, but the Golf Channel made a public records request and received the full report with nothing blacked out.
Woods, according to the report, told authorities he was taking Xanax, a prescription medication commonly used to treat anxiety and depression. Woods also told officers he was taking the following medications (though the names of the medications may be misspelled in the report): Soloxex (sic), Torix (sic), Vioxx and Vicodin.
The Golf Channel also included the full police report in its story.
Woods was found asleep in the driver?s seat with his car running and the brake lights on, according to a police report per Palm Beach Post, and had to be awaken by officers on the night of May 30. He was just a short distance from his restaurant when the arrest took place. There was also reportedly damage to his vehicle when he was found. Woods was arrested on suspicion of driving under the influence of drugs or alcohol and cited for improper stopping, standing or parking in an illegal place, per Palm Beach County Court records. He is scheduled for arraignment on July 5.
Woods, in a statement, said he had an unexpected reaction to prescription medication,
Here's his statement:
?Tiger Woods:
?I understand the severity of what I did and I take full responsibility for my actions.
I want the public to know that alcohol was not involved. What happened was an unexpected reaction to prescribed medications. I didn?t realize the mix of medications had affected me so strongly.
I would like to apologize with all my heart to my family, friends and the fans. I expect more from myself too.
I will do everything in my power to ensure this never happens again.
I fulled cooperated with law enforcement, and I would like to personally thank the representatives of the Jupiter Police Department and the Palm Beach County Sheriff?s office for their professionalism.?
The 41-year-old Woods had his fourth back surgery back in April and is not expected to compete in any PGA Tour events this year. He?s won 14 majors and 79 PGA Tour titles over his career.