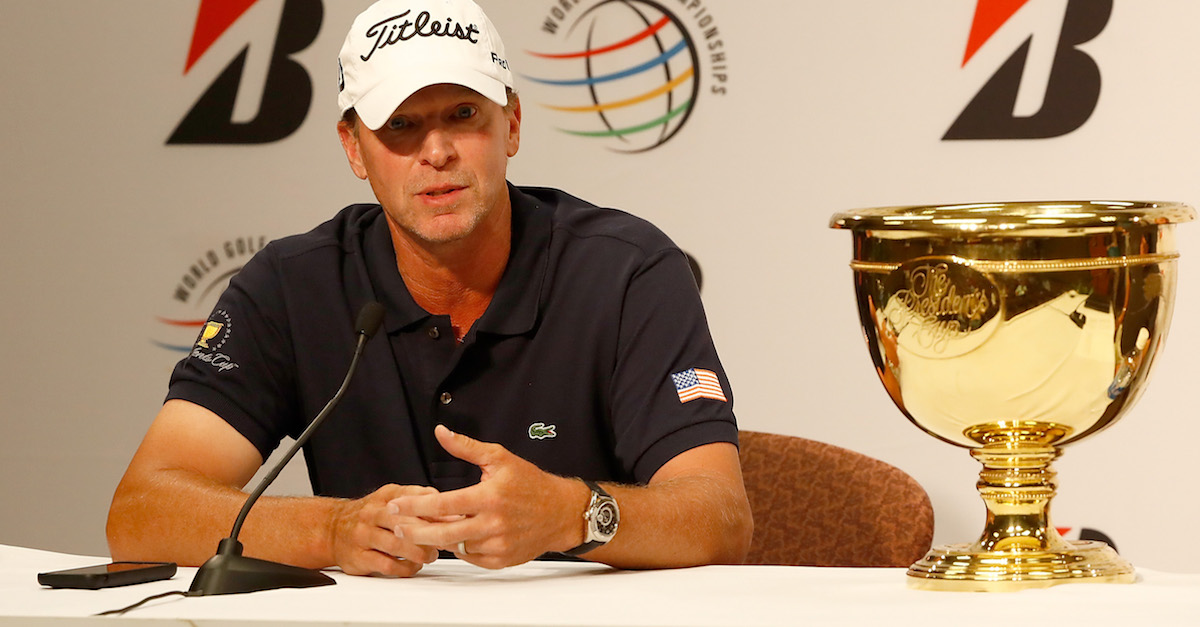 Sam Greenwood/Getty Images
In 2008, American Ryder Cup captain Paul Azinger debuted what he called his pod system form of team-building, which he picked up from watching a documentary about how the Navy turns recruits into SEALs. What that essentially means is that, in filling out his Ryder Cup roster, Azinger would divide the team of 12 into three groups of four players who shared some sort of characteristic of relationship. In doing this, Azinger created natural pairings within each pod for the team play portion of the event, and the result was the Americans defeating team Europe 16.5-11.5, breaking the streak of Europe's three consecutive victories.
Why am I telling you this? Well, the Presidents Cup is a week away, but Rex Hoggard of the Golf Channel is reporting that captain Steve Stricker will be using the same method to create his pairings for Liberty National, and multiple sources have told Hoggard which players could make up each pod.
"Each pod includes two rookies and two veterans, which is not surprising given the relative inexperience of Stricker?s team.

Sources say Dustin Johnson and Matt Kuchar will be in the same pod as rookies Kevin Kisner and Kevin Chappell; Jordan Spieth and Patrick Reed are with Brooks Koepka and Daniel Berger; and Phil Mickelson and Rickie Fowler are with Justin Thomas and Charley Hoffman.

Although Stricker and his assistant captains have multiple possible pairings for each player and could just as easily pair outside the pods, it seems likely teams will emerge from each group, and there are predictable pairs.

Spieth and Reed were, well, Spieth and Reed at last year?s Ryder Cup, going 2-1-1 at Hazeltine National, and many have said Thomas and Fowler, good friends who spend time together at home in south Florida, would be a potential team."
As Hoggard notes, Stricker can easily decide to pair up any two of these players outside of their pod if they so wish, but creating these pods allows the captain and assistant captains to be flexible with their pairings but still maintain some type of familiarity within the playing pod. If done right, the camaraderie manufactured between these pods and the whole team can be the deciding factor between taking the Presidents Cup back home or not.
Of course, this could be changed as we draw closer to the event, but even the first reveal of these pods is getting the juices flowing. Even assistant captain Tiger Woods is reportedly "peppering" players and captains with ideas for lineups already. The excitement levels are starting to rise and next week should be awesome. Hurry up and get here.