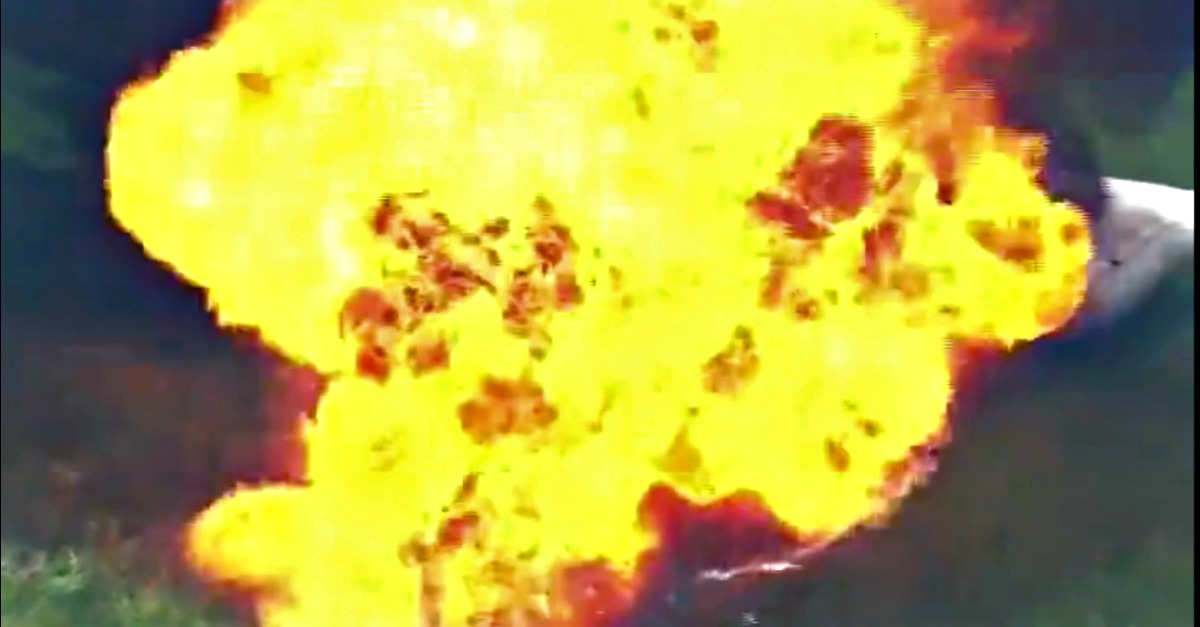 Fox Sports via Twitter
A hot air balloon crashed and erupted in a massive fireball after it went down within sight of the Erin Hills Golf Course, the location for this year's U.S. Open.
The Washington County Sheriff's Department, in a press release on its Facebook page, said an advertising balloon caught fire and went down about 11:15 a.m. CST roughly three-quarters of a mile from the Open site. The balloon may have experienced mechanical problems prior to the crash. The release also said the pilot was badly hurt, with serious burns and other injuries, and was transported to a local hospital. Here's the Sheriff's Department complete release:
The Washington County Sheriff?s Office is currently investigating the crash of an advertising blimp east of the 2017 US Open Golf event grounds. A Washington County Sheriff?s Deputy at a security post reported seeing the lighter than air aircraft on fire, or smoking, and rapidly descending at 11:15 a.m. in the Town of Erin. Hartford Fire Department was immediately paged to the 1400 block of STH 83. Ashippun Fire Department used a utility type vehicle to access the crash site which was approximately .75 miles to the east of STH 83. Both Ashippun Fire Department and the Hartford Fire Department were staged at the 2017 US Open, which is about 1 mile west of the crash site, and were able to quickly respond to the site after the initial report.
The pilot, the only occupant of the aircraft, sustained serious injuries as a result of the crash and was medically transported via Flight for Life with serious burns and injuries.
The initial investigation reveals the blimp may have experienced mechanical problems prior to the crash. The Sheriff?s Office has been in contact with both the Federal Aviation Administration as well as the National Transportation Safety Bureau to assist with the onsite investigation.
The advertising blimp had been airborne for several hours prior to the incident and the Sheriff?s Office had been in contact with FAA representatives earlier in the day and determined the aircraft was lawfully operating at the proper altitude.
Another video showed golfers watching as the blimp descended. There's been no confirmation that the pilot bailed from the craft prior to it hitting the ground.