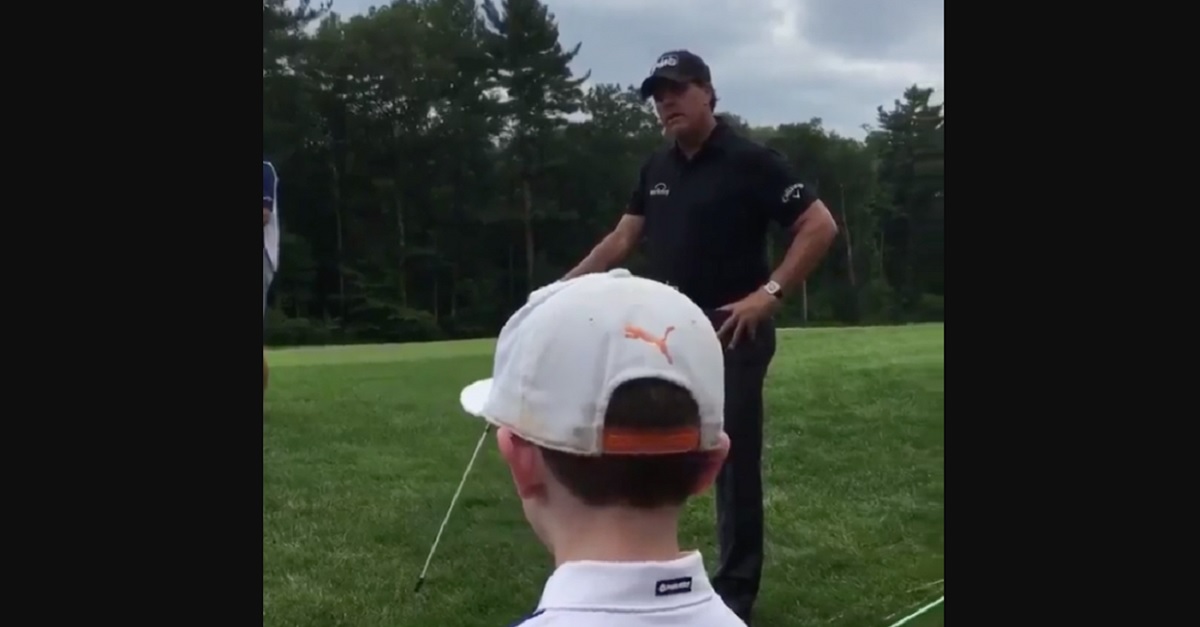 @redavett101/Twitter
Phil Mickelson has won 42 times on the PGA Tour, including five major championships. He's won all over the world on all types of courses and has cemented himself as one of the top 10 or 15 players of all time. There is likely nothing he hasn't come across on a golf course.
But sometimes, even Mickelson needs a second opinion on a shot. Since parting with his longtime caddie earlier this summer, Mickelson has had more questions than answers about his game. This weekend at the Dell Technologies Championship, he decided to crowdsource for some last minute advice from an usual source while in the heat of competition.
First of all, shoutout to the kid for controlling his nerves well enough to deliver a clever response. That's no easy task when under that kind of pressure. Secondly, Mickelson was in or near contention for most of the tournament. For him to take a few spare seconds to interact with that kid instead of keeping his focus inside of the ropes shows why he has been a fan favorite for so long.
Mickelson carded four rounds in the 60s, but a few missteps on the back nine on Labor Day kept him out of any real shot at winning the title, falling six shots short of eventual champion Justin Thomas. However, if this kid shows up at the BMW Championship in two weeks time to offer some more advice, maybe it will be Mickelson hoisting the trophy after the final round.