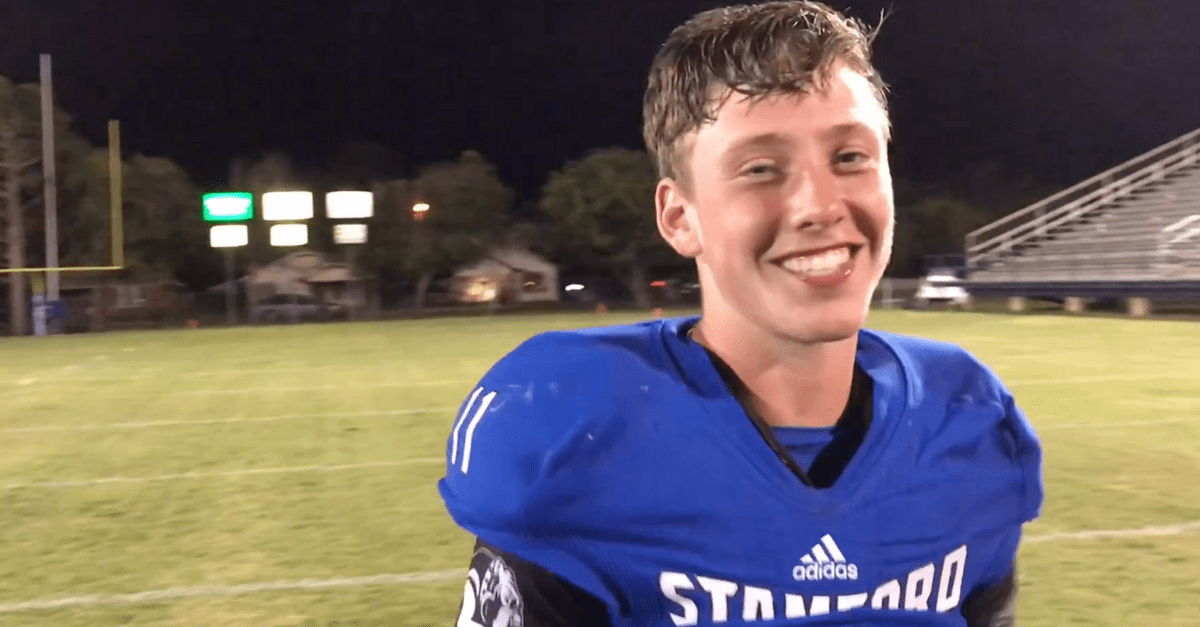 Screenshot from Abilene Reporter-News
Texas is a hotbed for football talent. It's a state where they live and breathe the game, whether it be classic 11-man football, or the spin off game of 6-man football played in smaller communities. However they can manage it, Texans love seeing that prolate spheroid fly through the air, and the scoreboard lighting up in the process.
Never, though, had a Texas high school football player done what Stamford quarterback Peyton Bevel managed to do during a 90-62 win over De Leon. The senior set two state records during the game that might never be touched again. Bevel lit up the Texas sky throwing for 789 passing yards and a mind-blowing 12 touchdowns passes.
About three hours west of Dallas, the Stamford Bulldogs were the state's fourth-ranked team among Texas' 2A Division I high schools, according to Dave Campbell's Texas Football. The school's senior quarterback was the cog that drove the engine, but even he didn't realize the magnitude of what he had just accomplished during the record game.
"State record? All right, wow," Bevel told the Abilene Reporter-News after the game. "I had no clue what that was, I just go out there and play. Glory to God. When you've got athletes like I do, it makes my job a lot easier."
RELATED: The Nation's No. 1 QB of 2020 Has Four Top Schools in Mind
Athletes like wide receiver Tre Mitchell contributed to the fun, hauling in three of Bevel's 12 touchdowns and racking up 305 receiving yards.
Stamford went up 28-0 in the first quarter after Bevel's fourth touchdown toss, and De Leon could only chase the Bulldogs the rest of the way as the game was never closer than 20 points.
Not to be outdone, though, De Leon Bearcats quarterback Kevin Yeager threw eight touchdowns himself, but opponent on the other sideline was busy breaking the state's all-time mark previously held by.
Prior to that Friday night game at Bill Anderson Stadium, Texas' top high school passing games belonged to Marble Falls' Mike Richardson in (725 yards) in 2012 and Bells High School's Bryan Ponder (11) in 2017.
It's one of the most insane stat lines you'll ever see from a single player, and I'm sure that Bevel was the toast of Stamford for not only that week, but for the rest of his life.
Stamford finished 2018 with a 9-3 record, largely thanks to Bevel's record-breaking season. Bevel's 57 touchdown passes that year ranked first in all of Texas (tied for 17th-most in state history) and earned him Class 2A Offensive Player of the Year honors, as well as being named First-Team All-State by the Texas Associated Press Sports Editors.
This article was originally published on October 4, 2018 and has been updated with a recap of Stamford's 2018 season.