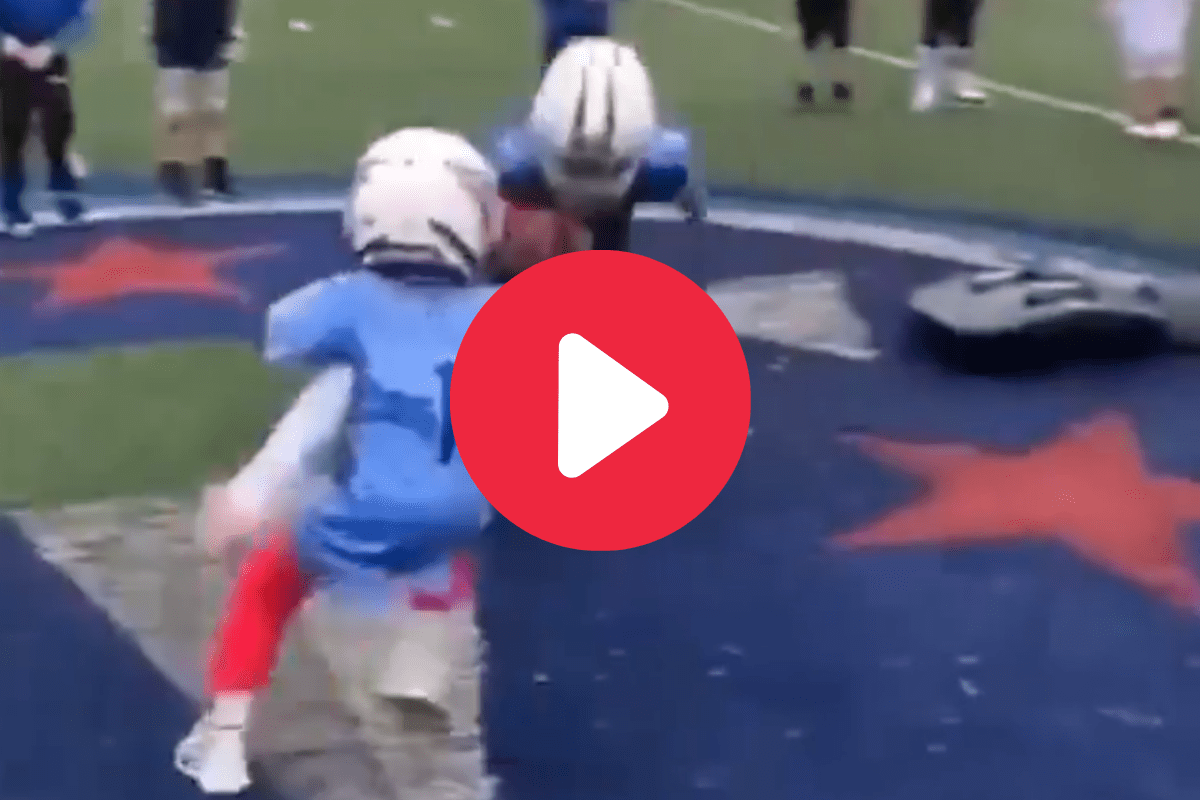 Screenshot from Twitter
Pee wee football isn't for the weak.
Nowadays these 8-year-olds are trucking each other like NFL scouts are in attendance. I don't care if Nick Saban and his fleet of coaches are in the stands. Monster hits like these will make parents rethink putting their little kid in pads.
One massive pee wee hit in a youth football drill is going viral because everyone is outraged the coaches allowed it to happen. Even former NFL players have taken to social media to blast the coaches.
Viral Pee Wee Hit Drill Sparks Outrage
RELATED: Monster Hit Will Make Parents Rethink Pee Wee Football For Kids
This hit in a drill was posted to Twitter by user @zeekncashe, and it's racked up more than 13,000 retweets and five million views.
The eight-second viral video shows two young players in Tennessee Titans uniforms banging their heads together. The bigger kid with the ball lays out the smaller player, sending his head flying back and his body to the ground.
"You good, get up," the coach says.
Meanwhile, the little dude is probably trying to regain consciousness and keep himself from throwing up.
This appalling video took place outside Charlotte, North Carolina for a youth football team called the Weddington Titans. An attorney for the Wesley Chapel Weddington Athletic Association said in a statement (via WCCB Charlotte) the clip was from September 2020 and the coach in charge was removed from his position:
"WCWAA?s youth football program, along with all of their other programs, primarily focuses on the safety of youth athletes, as well as the instructional and developmental aspects of the game, including appropriate drills for appropriate age groups. All of the coaches are volunteers and are required to be certified through USA Football. When this matter first came to the association?s attention back in September of 2020, the Board immediately took action to address the situation as the safety of the youth athletes are of paramount importance. After a thorough investigation, the head coach was removed from his position.
This drill occurred back in Sept 2020 on a team with a first year coach in the program. This was addressed immediately with the coach when it happened as this was deemed not an acceptable drill for this age group or the experience level of these players. Subsequent to the coach being removed from his position, there were no other incidents or issues with this team during the remainder of the season. As all of the coaches are USA football certified volunteers, WCWAA continuously encourages and requires their coaches to enhance their education and training through USA Football as well as through mentoring programs within and outside the organization. The younger coaches in the program are provided with feedback and support during the season from more experienced coaches. Again, the safety of the players is the primary focus and we believe that the immediate and swift actions of removing the coach from his position demonstrates WCWAA?s commitment to that safety.?
USA Football reached out to Fanbuzz after this article was originally published. The organization maintained that the video "has no place in our game."
"This video distorts how today?s youth football should be taught and played, which is safer and smarter than at any time in its 90-plus year history," USA Football Communications Director Steve Alic wrote in an email.
"USA Football strongly recommends and educates on the use of developmentally appropriate drills, the knowledgeable and proper use of levels of contact, coaches educated on proper tackling technique; reinforcement of the rules of the game; and creating a physically and emotionally safe environment for athletes at all ages. The coaching and behaviors demonstrated in this video exhibit none of this."
One thing's for sure: The hit is causing mass outrage.
"Idk what organization or program this is but they all should be banned until they get proper coaching. Ridiculous," former NFL linebacker Shawne Merriman tweeted.
NFL Player & Media Reaction
"Attention all parents! If your kid is doing this drill. Take your child off the field and don?t go back to those stupid coaches. Coaches like this aren?t safe and ruin the image of football," former Baltimore Ravens wide receiver Torrey Smith wrote.
"Every coach associated with this – or who conducts drills like this – should be banned from coaching youth football. Despicable," NFL reporter Jim Trotter said.
"This right here is EXACTLY why I wouldn't let my boys play tackle until I was done playing – so I could be there to make sure they were being taught the right way. Where's the standards & regulations for who's 'coaching' our young kids. This is a set up from the start, they knew damn well what was about to happen!" former Pittsburgh Steeler James Harrison wrote on Instagram.
I think we can all agree no youth coach should be teaching pee wee football players to hit with their helmets like that. It's time to find out where this was and make sure the coach is suspended or banned.
This article has been updated as more information has been made available.