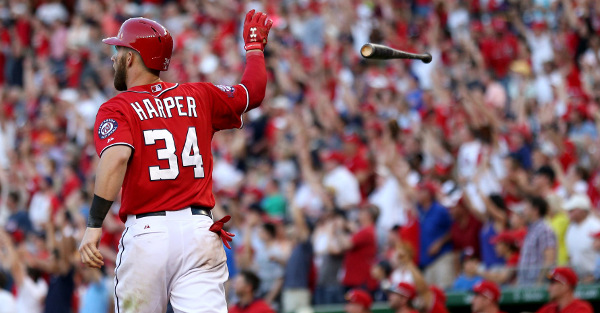 Bryce Harper has no chill when it comes to showing up rookies, and even though this may not have been intentional, it sure reminded us how lethal Harper is with a bat in his mitts.
Nomar Mazara, rookie for the Texas Rangers, blasted a homer run against the Angels in the second inning. Not only was it his first major league home run, it was the longest by any player in the 2016 season.
RELATED: Bryce Harper is killing he best pitchers in the world and making it look easy
Here's the 491-foot rocket by Mazara.
The following night, Harper crushed one of his own, a 437-foot bomb against St. Louis–his personal longest of the season. Let's not forget Harper has 12 homers on the year and 109 in his short career.
Sure, the rook's homer was a thing of beauty, but Harper would like the world to know there's no slump in his game.
[FTW/MLB]