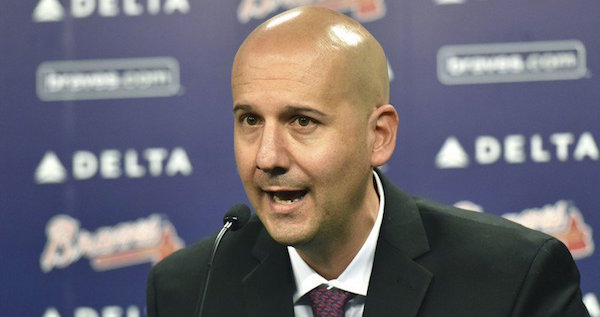 @ZachKleinWSB/Twitter
@ZachKleinWSB/Twitter
Former Atlanta Braves general manager John Coppolella has been banned for life by Major League Baseball commissioner Rob Manfred due to multiple violations of international signing rules from 2015-17 following a thorough investigation into Major League Rules by the franchise.
Manfred released an official statement on Tuesday, which details the investigation's findings and the numerous violations committed by Coppolella:
"The investigation established that the Braves circumvented international signing rules from 2015 through 2017. During the 2015-16 international signing period, the Braves signed five players subject to the Club's signing bonus pool to contracts containing signing bonuses lower than the bonuses the Club had agreed to provide to players. The Club provided the additional bonus money to those players by inflating the players for the full, actual signing bonus amounts. Had the Club signed the five players to contracts containing their actual bonuses, however, the Braves would have exceeded their signing onus pool by more than five percent and would have been, under MLB rules, restricted from signing any players during the next two signing periods for contracts with bonuses greater than $300,000."
For their involvement, the Braves will reportedly be forced to release 12 minor league prospects and will lose their third-round draft pick in 2018, according to Yahoo Sports' Jeff Passan.
Among the minor leaguers lost is 17-year-old shortstop Kevin Maitan, who ranked as the No. 38 prospect in baseball after the 2017 season, according to MLB.com.
Maitain had originally signed in July 2016 and was given a $4.25 million bonus, before hitting for a .241 average with two home runs and 18 RBIs in 42 Rookie League games last season.
Coppolella resigned from his position in October following the league's investigation into the Braves' international signing methods. The 38-year-old was hired in Oct. 2015 after previously working within the organization as Atlanta's director of baseball operations and assistant general manager.