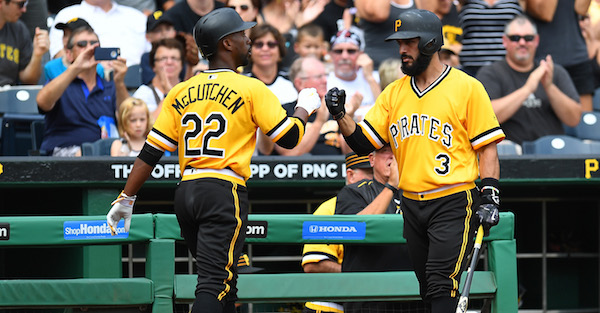 Joe Sargent/Getty Images
PITTSBURGH, PA - AUGUST 21: Andrew McCutchen #22 of the Pittsburgh Pirates celebrates with Sean Rodriguez #3 after scoring during the fourth inning against the Miami Marlins on August 21, 2016 at PNC Park in Pittsburgh, Pennsylvania. (Photo by Joe Sargent/Getty Images)
Atlanta Braves pitcher Sean Rodriguez and his family were involved in a car crash involving a stolen police car at 1:45 p.m. on Saturday in Miami.
Related: After a health scare, Jim Harbaugh has shared some fantastic news 
Rodriguez and his family are still recovering from the crash. According to ESPN, the 31-year-old Rodriguez, his wife, Giselle, and their two children were T-boned by a police car, but Deadspin reported Rodriguez's black Suburban T-boned the police car after the driver lost control of the vehicle.
The police cruiser caught on fire after the crash, and the unidentified driver died at the scene of the crash. A video of the police car was reportedly captured by TJ Williams.
https://www.instagram.com/p/BP0ktPEgQpy/?taken-by=tomjonwill152
Rodriguez—who signed a two-year deal with the Braves this offseason—was treated for minor injuries. His wife in children suffered more serious injuries, but all three are in stable condition.
Rodriguez played for the Pittsburgh Pirates before joining the Braves.
(h/t Deadspin)