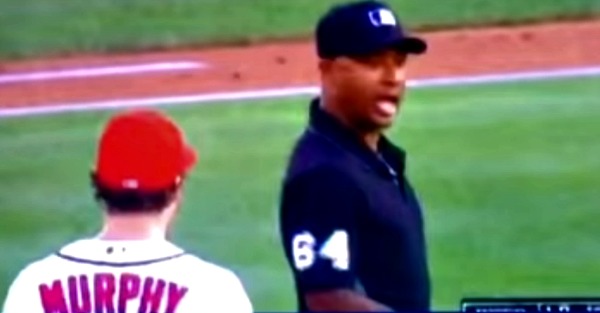 Volsmet Tacos via YouTube
Well this seems a little out of line.
During Tuesday's game between the Washington Nationals and the Atlanta Braves. Nats second baseman Daniel Murphy had a simple request for second base umpire Alan Porter — could you move out of my line of sight?
A video of the incident caught Porter using words not found in the Queen's english.
Who knows why Porter was so annoyed by a simple request. After the game, a 10-5 Nationals win,  Murphy took the high road in his remarks to  the Washington Post:
Alan and I talked. I think we both understand we've got a job to do, and we were both able to discuss and work through that. By the end of the game, there were no problems whatsoever. I don't foresee there being any problems in the future, either.
So that appears to be the end of that — until the next time Murphy asks Porter to move.