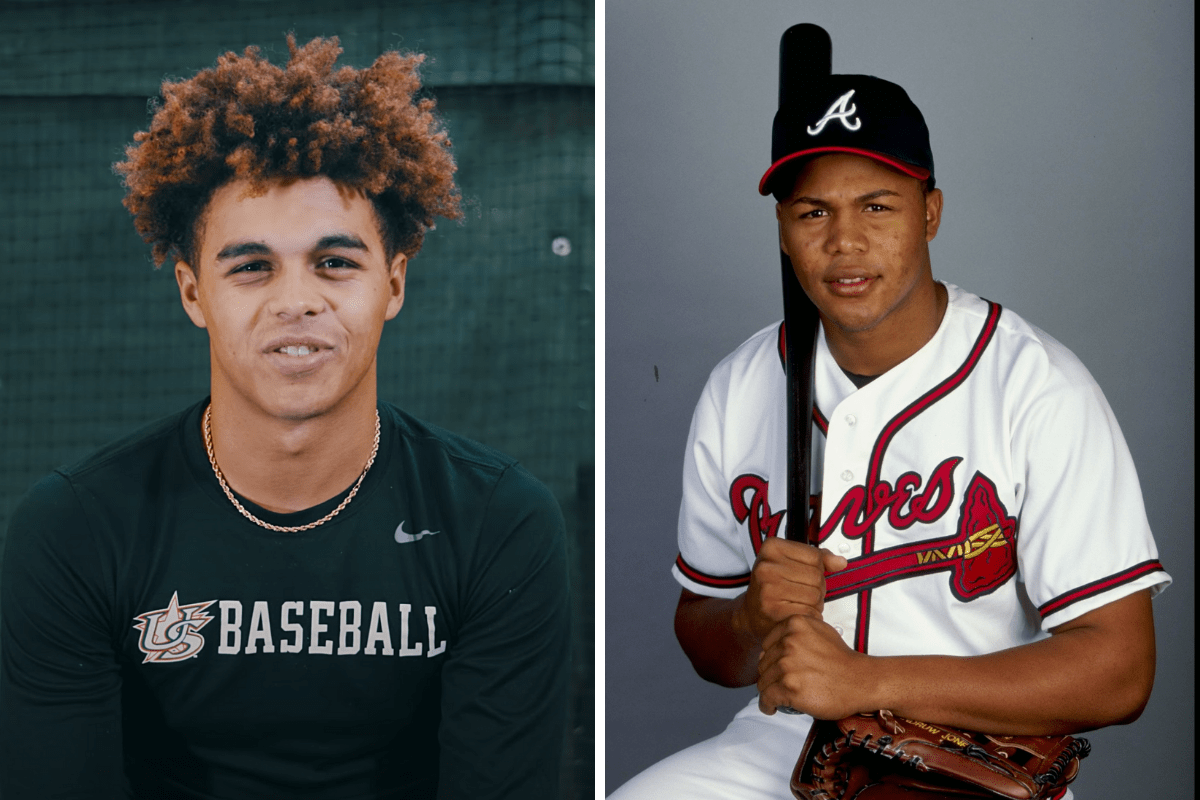 Screenshot from YouTube (left), Andy Lyons/Staff/Getty Images (right)
Remember when Andruw Jones was a phenom?
When, at 21 years old, the fleet-footed home run-hitting centerfielder for the Atlanta Braves clobbered 31 home runs and stole 27 bases in 1998 while patrolling the outfield with a glove the size of Texas?
Andruw Jones went on to do some pretty amazing things in MLB. A measly 434 home runs. More than 150 stolen bases. Five All-Star games. Ten Gold Glove awards (freakin' 10 in a row, too!). One incredible 2005 campaign in which he hit 51 home runs and posted 128 RBIs, both league highs.
The 44-year-old's career officially came to a close in 2016 after a brief stint with the New York Yankees and the Tohoku Rakuten Golden Eagles in Japan. Since then, he's served as a special assistant to the Braves, but more importantly as a dad to his son and future MLB Draft pick, Druw Jones.
It's time to meet the phenom's phenom.
Andruw Jones' Son Druw Jones
RELATED: What Happened to Andruw Jones and Where is He Now?
Druw Jones is the son of Andruw and his ex-wife Nicole Derick.
Nicole filed for divorce from Andruw in 2013 after a domestic violence incident in which he allegedly grabbed her by the neck and threatened to kill her.
Despite this riff in his home life, Druw Jones has been able to blossom into a player every MLB team has on their radar in this year's MLB Draft.
Why? As ESPN put it, he could be the best prospect since Bryce Harper. I wouldn't go that far, but he does have all the makings of a future MLB star.
Druw Jones: Potential No. 1 Pick in MLB Draft
Just take a look at that bat speed and his swing. It looks just like his dad's.
If that's not enough, his tangibles speak for themself: 93-MPH arm strength from the outfield, a 6.31 60-yard dash and his father's incredible athleticism. All from a 6-foot-4 frame that is bound to put on weight.
Last year at Georgia's Wesleyan High School, he was otherworldly. He hit .445 with 16 home runs, 39 RBIs, 58 runs scored and 14 stolen bases, according to the Gwinnett Daily Post. He also helped his team to a runner-up finish in the state championship game.
This year he's done much of the same damage, including hitting a viral home run as an opposing team yelled "overrated!" chants in his ears:
Sure, Druw Jones is committed to Vanderbilt. But let's face it, he won't ever make it to campus. MLB.com rates him as the No. 1 prospect in this year's draft class. Baseball America has him firmly cemented there, too. CBS Sports has him at No. 4 among its top prospects.
MLB.com even went so far as to say he could play shortstop if he wanted to:
"Jones is the best defensive center fielder in the 2022 high school crop and might be the best defender in the entire Draft. His speed and instincts combine to give him tremendous range and his well above-average arm strength stands out at a position not known for many cannons. Scouts who have seen the Vanderbilt recruit take infield say he has the tools and actions to play a fine shortstop as well."
This is all a complicated way of saying this: Druw Jones could be just as good, if not better, than his dad was.
As the son of Andruw Jones, Druw has all the pressure in the world on him. He'll hear it from other players every single at-bat. Luckily, though, he can ask his dad how to handle it all.
Related Videos