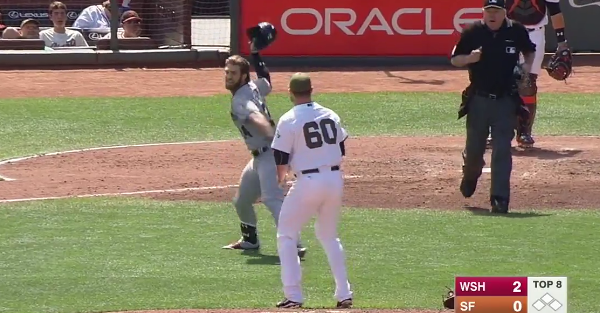 Clippit Screen Shot
This is something you don't often see in baseball fights.
Bryce Harper, the Washington Nationals star outfielder, charged the mound after being plunked in the hip by Hunter Strickland of the San Francisco Giants. A furious Harper slammed his helmet on to the field and charged the mound, and when he did, Strickland greeted him with a punch to the face.
Strickland was so enraged that ESPN showed his teammates literally dragging him into the dugout and away from the action.
After the game, more photos started to come in, like this in, in which the video appears to show Stickland landing a punch on Harper …
… in addition to Harper landing a blow of his own:
Some quickly weighed in.
Harper and Strickland have some history. Back in 2014, Harper crushed a three-run, game tying homer in Game 4 of the NLDS, and Strickland took exception.
Maybe Strickland has a long memory.
Strickland has also been a bit of a hothead in the past, with some calling into question his sportsmanship.