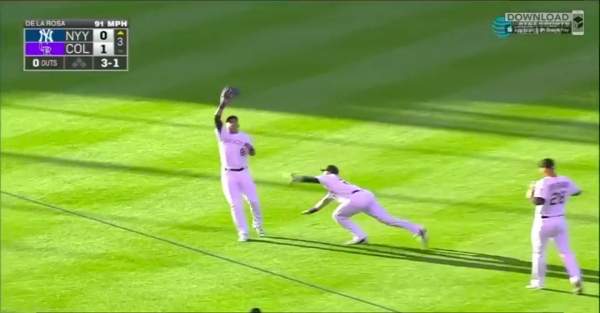 Gerardo Parra suffered a horrific leg injury against the Yankees when teammate Trevor Story ran into his knee after going for a fly ball.
Parra called off Story, causing Story to try avoiding his teammate. Unfortunately, he did more harm than good in going low.
Parra went down in immediate pain as Story got to his feet and stared at his teammate as if to say "God, what have I done?"
That's the question he should be asking too.
Even though the Rockies pulled through to beat the Yanks 13-10, it comes at the price of losing their biggest offseason acquisition– even if it's just for a few games. Parra is listed day-to-day.
Parra, who's batting .263 this season with five home runs and 27 RBI's, is listed as 'day-to-day' with an ankle sprain.