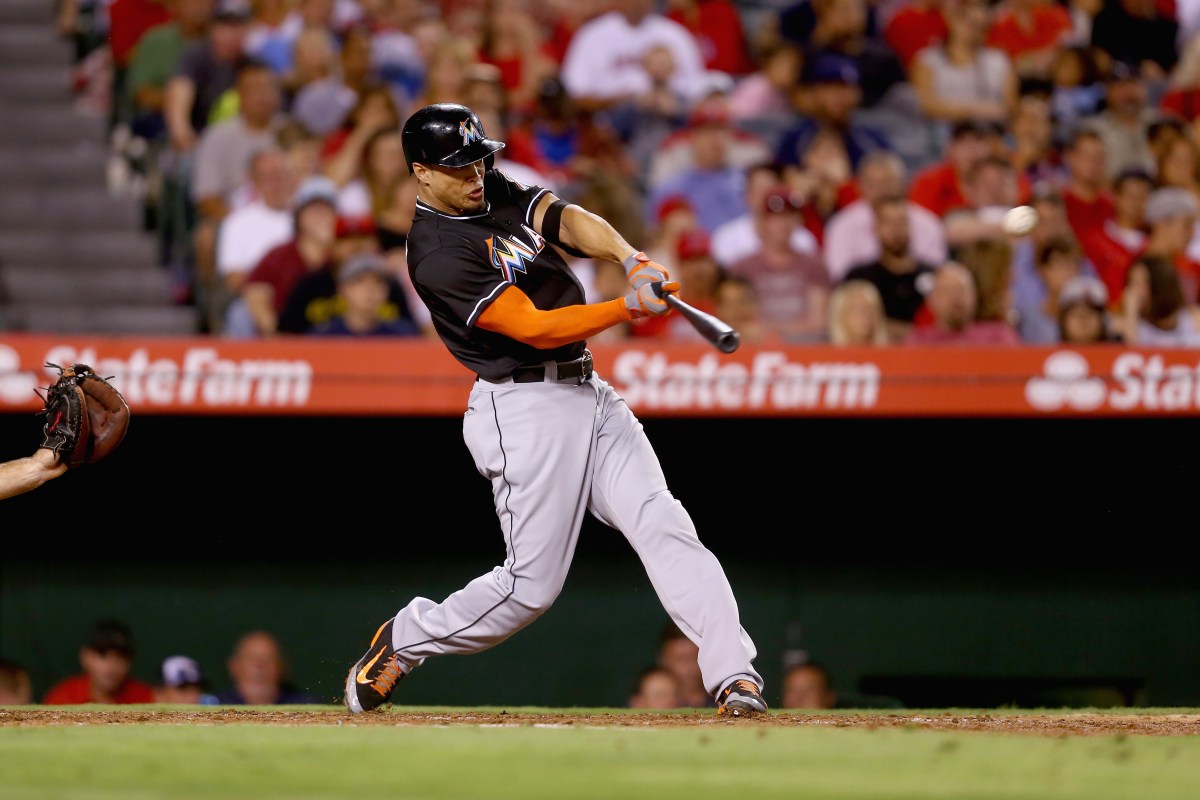 Jeff Gross/Getty Images
ANAHEIM, CA - AUGUST 25: Giancarlo Stanton #27 of the Miami Marlins hits a three-run home run against the Los Angeles Angels of Anaheim in the fourth inning at Angel Stadium of Anaheim on August 25, 2014 in Anaheim, California. (Photo by Jeff Gross/Getty Images)
There has been a lot of talk surrounding the Miami Marlins semi-young superstar, Giancarlo Stanton. Stanton, who will turn 28 on Nov. 8, signed a 13-year, $325,000,000 contract extension with Miami in 2014 ? a heavily backloaded contract extension.
The new ownership might find it difficult to trade him amid much anger from the fans as Stanton just did something that only the likes of Roger Maris, Mark McGwuire, Sammy Sosa and Barry Bonds have done before. Stanton blasted home run No. 50 of the season on Sunday in a 6-2 win against San Diego.
Not only did Stanton hit the half-century mark, but he joined a class filled by baseball legends. By belting his 50th home run on Aug. 27, Stanton is the fastest to hit 50 homers since Sammy Sosa and Barry Bonds did it on Aug. 26, 2001, and Aug. 11, 2001, respectively. Bonds, of course, set the single-season record that year with 73 home runs.
Stanton is averaging a home run for every 9.52 at-bats, which is video game status.
With 30 games left to play in the regular season, at his current pace, Stanton could finish with 62 home runs. And he'll likely claim the National League MVP award in the process.
It seems like trading him would be a big mistake.