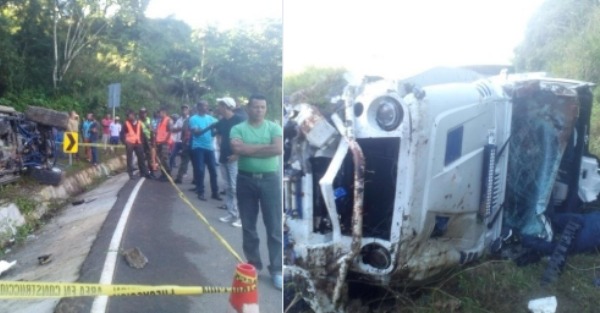 Twitter Screen Shot
Yordano Ventura's family is demanding an investigation into published reports that Ventura was alive after a car crash Monday, but that some heartless souls robbed him, didn't call for help, and left him for dead.
That's the unverified account in the Spanish-language newspaper Enseguendos in the Dominican Republic. From the newspaper report (translated from Spanish):
The journalist Euri Cabral reports that the player Yordano Ventura was found alive, but several people assaulted him instead of helping him.
The Kansas City Star  reported that Ventura's family wants an investigation into allegations that Ventura, a DR native, was robbed of his 2015 World Series ring and other valuables while he lay dying.
RELATED: Former top baseball prospect dies in car wreck in the Dominican Republic.
Ventura, 25, was driving home from a festival when he lost control of his custom white Jeep on a road in the mountains, crashed through a guardrail, and was ejected from the vehicle when it overturned, according to the Star. He was not wearing seat belt, and authorities told the newspaper speed may have been a factor in the crash.
The road had a speed limit of about 15 miles per hour.
Pedro Martinez, a Hall of Fame pitcher who was a mentor to Ventura, also called for an investigation. He posted a series of three messages on Twitter, all in Spanish, that translated to say:
How outrageous to know that a life like Yordano's could have been saved had it not been that they looted him the way he was looted. Now it is more painful to know that Yordano remained alive after the accident and instead of someone to help him, they robbed him and let him die. … I hope an investigation will be carried out, because if there is any specific evidence of this, I would feel a great deal of shame for my country."
Roads in the DR are notoriously dangerous. The World Health Organization, in a 2013 report, said the tiny island nation  ranked first in per capita fatalities with 41.7 deaths per year per 100,000 people.
Among those who have died over the last few years — Ventura's close friend, Oscar Tavares, a 22-year-old up-and-coming baseball star for the St, Louis Cardinals, and former top prospect Andy Marte, who also died in an unrelated car crash the same day Ventura died.
Ventura was laid to rest Tuesday: