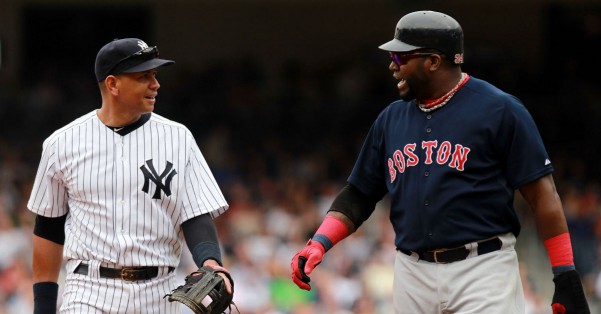 As awesome as Boston Red Sox slugger David Ortiz is swinging a baseball bat, Big Papi is really at his most entertaining when he opens his mouth.
Ortiz was asked about Yankees third baseman Alex Rodriguez putting together a pretty salty season after coming back from Major League Baseball's full-year suspension for PED use. Rodriguez, who recently turned 40, insisted last week that he's as clean as a freshly washed pinstriped uniform.
Ortiz's response made it seem as though he might just be a bit skeptical of the latter:
?It is what it is. The guy is playing the right way now ? as far as we know. He?s having a good season and doing the right thing. I guess that deserves credit . . . He?s having a good season. Me, personally, I thought having a year off and getting older was something that would affect you, but he looks good to me.?
Big Papi mostly sounds sincere, but as he's wont to do, he cleverly drops in a "as far as we know" just add a dash doubt about A-Rod's sincerity, as if that's never come up before. Of course, we know that Papi probably isn't send A-Rod Christmas cards because you might remember this little shoutout.
But hey, as far as we know, A-Rod is drug-free and fancy free, having fun playing again and, oh yeah, he's a big reason the Yankees are leading the American League East. A-Rod could always respond to Big Papi by saying as far as we know, the Red Sox will be home in October.
(h/t Hardball Talk)