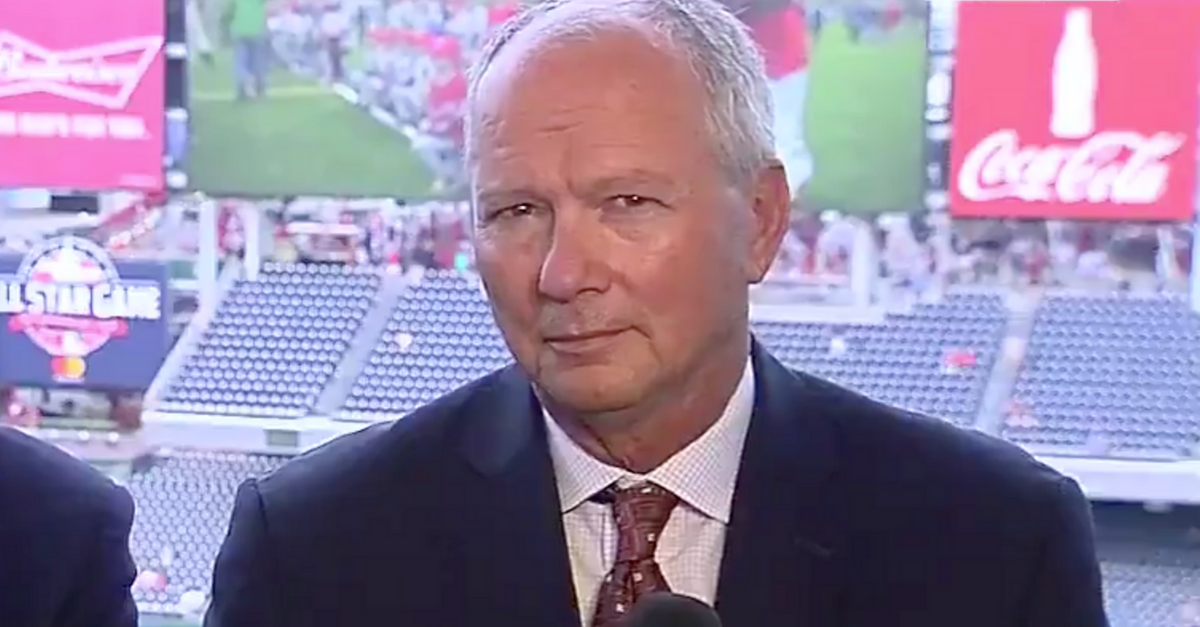 Twitter: @FoxSportsBraves
With nearly three decades of broadcasting experience, Joe Simpson has surely made his fair share of mistakes on the air. Yet, the longtime Braves announcer might have just made his biggest career blunder in a matter of seconds on live television.
During the first game of a double-header between the Atlanta Braves and Washington Nationals ? an important series in the National League East race ? Simpson made the ultimate foot-in-mouth comment when Nats phenom and NL Rookie of the Year frontrunner Juan Soto was up to bat.
?He is? if he?s 19, he certainly got his man growth,? Simpson said. ?He is big and strong.?
To say ?if? he is 19, well, isn?t just bad. It?s flat-out wrong.
Simpson?s speculation didn?t set well with anyone, nor should it have.
It?s not the first time someone has questioned the age of a Latin American player. Unfortunately, Simpson might not even be the last.
Regardless, it?s still so stupid to say a player is lying about his age.
The last part is quite accurate, though. Soto, a 6-foot-1 outfielder who is from the Dominican Republic, is big and strong, has a .315 batting average with 14 home runs and 39 RBIs this season, and clearly has a bright MLB future ahead of him.
But let?s get back to the issue at hand here:
This is not the first time the 66-year-old Simpson, who has been a radio and television broadcaster for the Braves since 1992, has made a ridiculous comment this season. He ripped the Los Angeles Dodgers for their batting practice attire, and didn?t set well.
This is on a different level, and Nationals general manager Mike Rizzo confronted Simpson in the booth to have a ?man-to-man discussion? about the situation.
?There was not much to it,? Rizzo told 106.7 The Fan. ?It was just an uninformed and unfortunate comment by Joe. He?s been in the game too long. He was a player and been an announcer for a long, long time. It was uninformed, not in touch, and he made a mistake.?
?The stuff [Soto] is doing is remarkable,? Rizzo added later in the interview. ?He?s truly one of the great players currently in the league right now and it?s unbelievable that we are talking about an age thing when we should be talking about a performance thing.?
Simpson apologized to Rizzo, and then did so on air during the second game of the double header after Soto hit a home run.
?If you were with us in Game 1, you might have heard me make a comment off the top of my head about if he?s 19,? Simpson said on the broadcast. ?Well, he is. He?s bona fide 19. And he is a full-grown man. He is strong. And he is one heck of a player. You might as well just write his name in on the Rookie of the Year award right now.?
Nice backpedal, Joe, but save it.
It?s a mistake, yes, another Simpson controversy that will probably be eventually forgotten, but you can?t fix stupid, either.