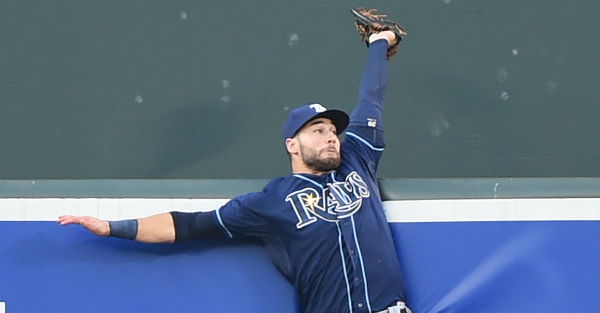 Getty Images
Kevin Kiermaier showed again why he is a Gold Glove outfielder. Tampa Bay's speedy center fielder robbed another home run, this time in a game against Kansas City.
The Royals' Eric Hosmer sent a rocket to center field in what looked to surely be at least a double. But Kiermaier ran back to the warning track, leaped into the air and somehow snatched the ball.
Kiermaier managed to hang on to the ball after falling and rolling on the warning track to earn the out. Hosmer could do nothing after the spectacular catch but take off and tip his batting helmet to Kiermaier.
The play proved to be a big part in turning the momentum toward Tampa Bay's favor. Though the Royals were up 2-0 in the fifth at the time, the catch helped prevent any further damage. The Rays took the lead when Brad Miller hit a three-run homer in the bottom of the eighth, and they held on in the ninth for a 3-2 win.