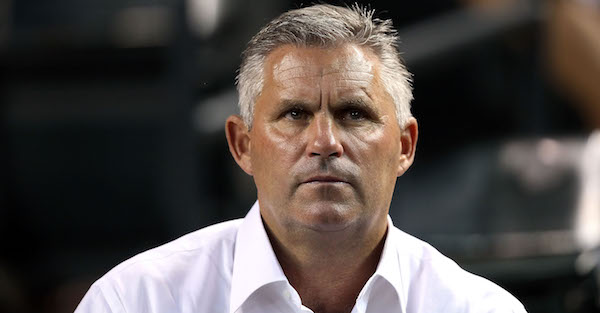 Christian Petersen/Getty Images
of the Colorado Rockies of the Arizona Diamondbacks during the Major League Baseball game at Chase Field on September 22, 2010 in Phoenix, Arizona.
Former MLB general manager Kevin Towers tragically passed away at the age of 56 after a battle with thyroid cancer.
Towers served as the general manager of the San Diego Padres from 1995-2009, and he was the GM of the Arizona Diamondbacks from 2010 to 2014. He was diagnosed with cancer in December of 2016.
During his tenure with the Padres, Towers orchestrated one of the best stretches in franchise history. The Padres won four division titles, and they won the NL pennant in 1998. They lost to the New York Yankees in the World Series.
Related: For the second time in a month, a team is reeling after one of its former players dies
Towers then became the GM for the Diamondbacks, and he guided the franchise to an AL West title in 2011.
Many in the baseball community expressed their condolences on Twitter, including Houston Astros manager AJ Hinch,
Our thoughts go out to his family and loved ones.
(h/t Sporting News)