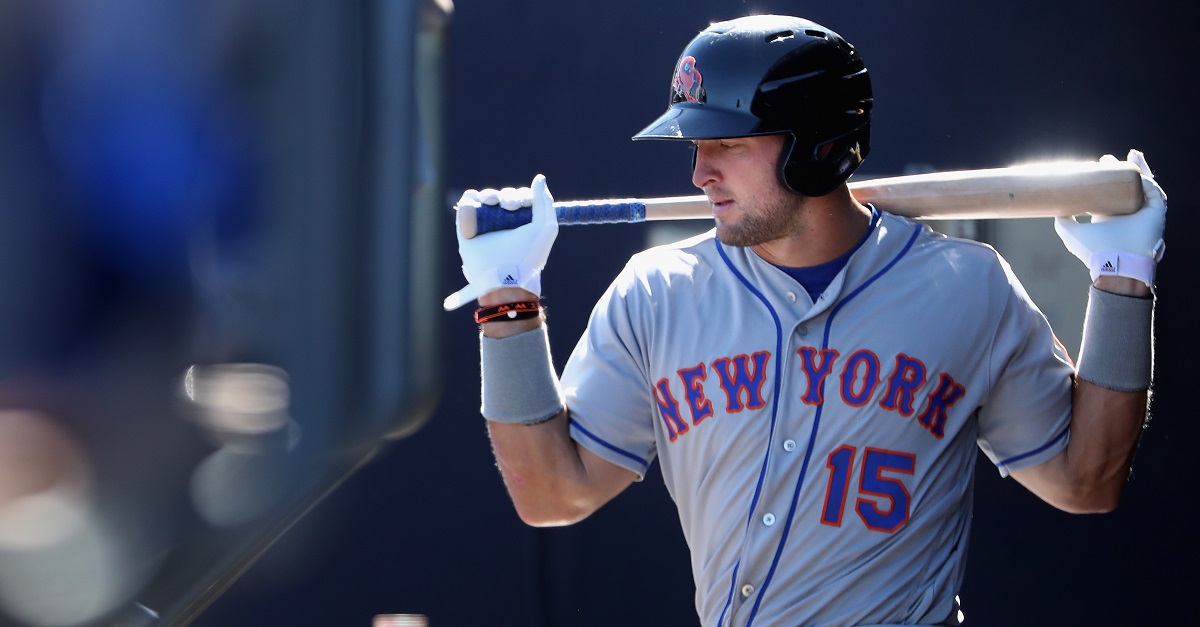 Christian Petersen/Getty Images
PEORIA, AZ - OCTOBER 13: Tim Tebow #15 (New York Mets) of the Scottsdale Scorpions warms up in the dugout during the Arizona Fall League game against the Peoria Javelinas at Peoria Stadium on October 13, 2016 in Peoria, Arizona. (Photo by Christian Petersen/Getty Images)
New York Mets general manager Sandy Alderson believes Tim Tebow will make it to the Major Leagues. We know this because he literally said so.
"I think he will play in the Major Leagues."
It is worth noting Alderson said that down in Florida.
Anyway, according to the New York Daily News, Tebow will likely start in Double-A Binghamton. Moreover, that it wouldn't shocking if the former Florida Gators quarterback made it to the Major League Baseball roster by September.
Tebow, who is somehow only 30, began his voyage toward the Big Leagues last season. By the time that journey was over, he advanced from Class A Columbia to Class A Advanced St. Lucie. Not exactly going through the ringer there, but he had to start somwhere.
Overall, he hit .226 with eight home runs in 126 games. The numbers weren't impressive, but some still believe that Tebow's raw power could be fully harnessed if he if is able to improve his ability to make contact.
Recently, in an interview with SEC Country, Tebow shot down the idea of returning to football by way of the XFL's relaunch:
?To be honest, I really haven?t given it any thought,? Tebow told SEC Country about the XFL. ?I?ve got too many important things going on, and I?m getting ready for spring training in slightly over a week.?

?Not really,? he continued. ?Honestly, it?s the beginning of 2018. And they?re talking about that in 2020. I?ve got a lot of life in front of me before that even happens. So I?m not even going to worry about it.?
With the Mets unlikely to be good this season, the organization can use him as a cheap draw.