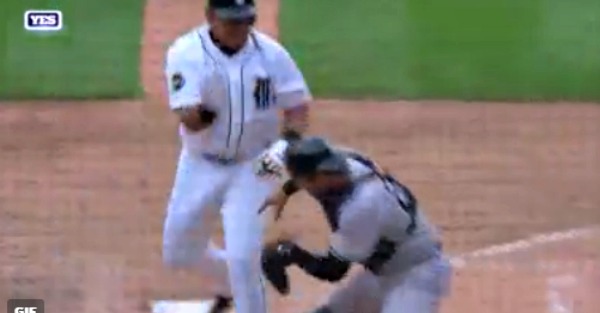 What The Sports via Twitter
You don't see baseball fights like this.
Former AL MVP Miguel Cabrera threw punches at Yankees backup catcher Austin Romine after a bean-ball war between the two teams erupted.
It all started a couple of inning earlier when Tigers starting pitcher Michael Fullmer drilled red-hot DH Gary Sanchez in the hip after he had hit a home run earlier in the game.
Then, with two outs in the bottom of the sixth, Yankees pitcher Tommy Kahnle threw behind Cabrera, and was immediately ejected from the game, as was manager Joe Girardi, who was thrown out for arguing. With Aroldis Chapman warming up, replays show Cabrera approaching Romine, and when Romine took off his mask, Cabrera threw two punches and the benches emptied.
Romine, Cabrera and Kanhle were all thrown out of the game. Expect the league to hand down suspensions in this one.