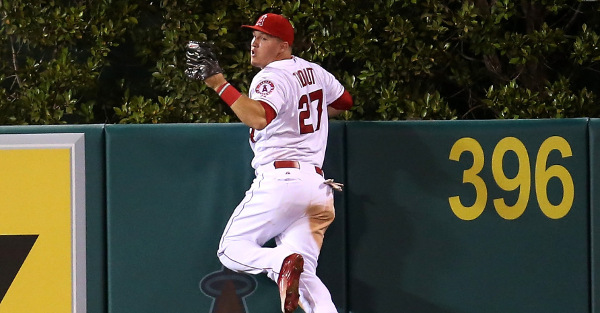 the Seattle Mariners the Los Angeles Angels of Anaheim at Angel Stadium of Anaheim on September 26, 2015 in Anaheim, California.
The Los Angeles Angels should hold a "Grab the Trout Wall Catch Figurine" night every night if possible, just to keep the mystique going.
Friday night was that night and, like most other nights (you don't get a figurine showing off your wall-crawling abilities unless you're Spider-Man) Mike Trout robbed another poor batter of a potential home run.
This time it was Baltimore Orioles left fielder Joey Rickard, who slugged one earlier in the contest. What makes Trout's grab even more impressive was it's timing. With two outs and a runner on first in the second inning, Trout put on his burglars mask and looked eerily similar to smaller version of himself.
https://twitter.com/Angels/status/733858283631431680?ref_src=twsrc%5Etfw