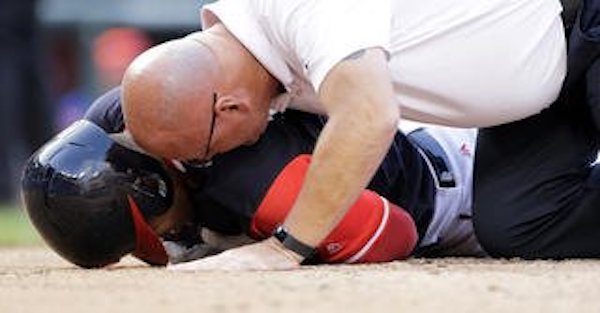 @DustValleySprts/Twitter
Milwaukee Brewers prospect Julio Mendez is in critical, but stable condition, according to CBS, after he was struck by a pitch Saturday night in an Arizona League game.
Here's apparently what happened:
"I can give details. Was there in person watching. Julio was hit by a pitch in what looked like the ribs/chest and immediately fell to the ground. Trainers took action very quickly. He was laying on his stomach and was rolled over. His breathing was very sharp and aggressive if I had to describe it. Then, it stopped, and trainers for both teams started CPR. There was a good 10 minutes (felt like an eternity) before paramedics arrived and took over the process. He was shocked (not certain of the correct medical terms, I apologize) 3 times during the entire process. He came back and took a few breaths at one point on his own during the process but it was only for a few seconds. He was taken to the ambulance while CPR was still being performed."
The Brewers later released a statement:
"All our thoughts and prayers are with Julio and his family," said Milwaukee Brewers general manager Daniel Stearns. "We will provide updates as we know more."
Mendez signed with the Brewers in 2014.