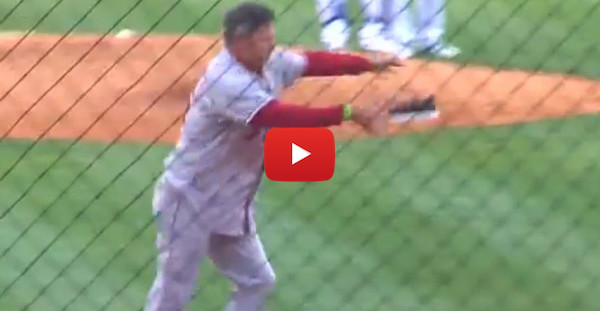 Minor league baseball is pure entertainment. Whether it's the nightly bobblehead giveaways of seemingly every player that has ever played for the organization, the zany in-between innings acts that usually feature dancing mascots or the crazy food concoctions some stadiums create, there's always something going on that keeps our attention while at the ballpark.
But on Tuesday night, it was Double A Frisco RoughRiders manager Joe Mikulik creating some fun on the diamond. After a horrendous blown call, which you can see in the video, Mikulik rightfully loses his mind.
After coming on the field to argue the call, Mikulik removes his shoes and Gronk spikes them. Once he finished spiking them, Mikulik punted one of them toward the other team's dugout and threw the other toward the backstop. Once he headed to the dugout, Mikulik threw a trash can on the field, which the bat boy had to go clean up. I was a bat boy for a minor league team for a couple of years, it's never fun having to clean up the mess from the players or the managers.
The funniest part of this video to me is Mikulik obviously debating on whether or not he should take his uniform off. He made the right decision. We don't want to see that DadBod.