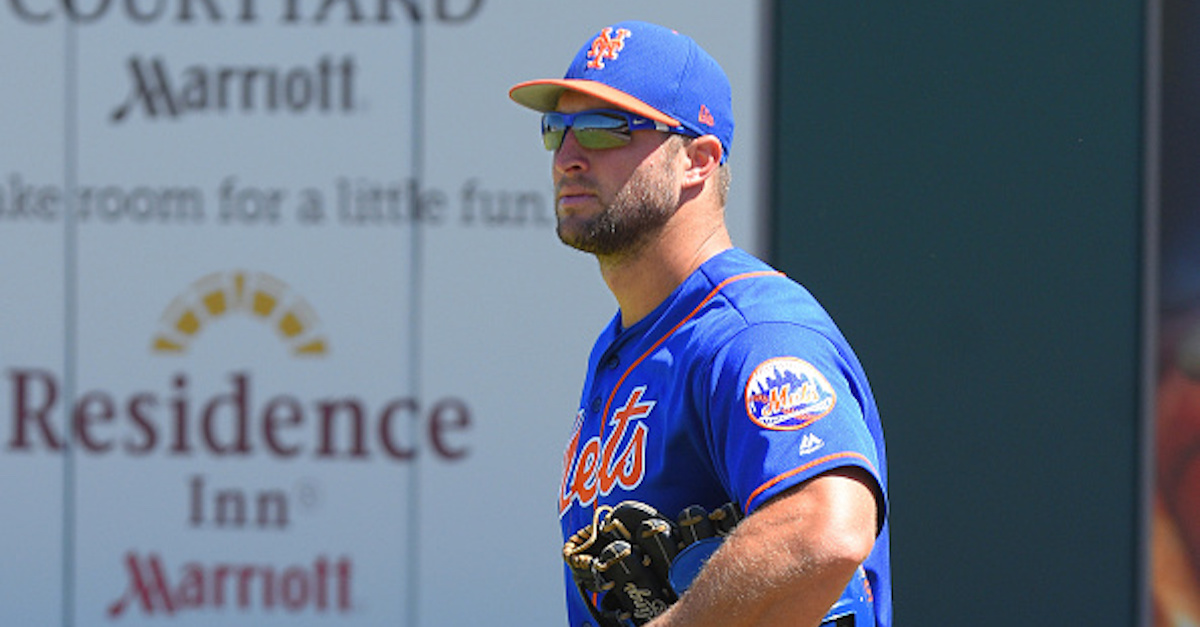 Mark Cunningham/MLB Photos via Getty Images
LAKELAND, FL - MARCH 20: Tim Tebow #97 of the New York Mets looks on prior to the Spring Training game against the Detroit Tigers at Publix Field at Joker Marchant Stadium on March 20, 2017 in Lakeland, Florida. The Tigers defeated the Mets 5-1. (Photo by Mark Cunningham/MLB Photos via Getty Images)
Former Heisman Trophy winner and NFL quarterback Tim Tebow has been finding a ton of success as a minor league baseball player, but don't expect his big league club to call him up anytime soon.
Speaking to reporters heading into the weekend, New York Mets General Manager Sandy Alderson threw some cold water on the fire that is Tebow-Mania — something that has followed him from his time at Florida, to his stint as a red-hot NFL quarterback, and now to the Mets' minor league system.
Tebow has been playing great lately, but Alderson didn't seem optimistic about a call-up, as relayed by ESPN.
"Never crossed my mind until about 10 days ago when somebody said it was likely to happen," Alderson told reporters Friday.

"I don't foresee that kind of scenario."
Alderson's words come despite the fact that Tebow has been playing lights out baseball in advanced-Class A. He's been batting .321 since joining the St. Lucie Mets in late June, and as of this past Friday night, he's hit safely in 12-consecutive games.
Friday night's clash with the Daytona Tortugas saw Tebow go 1-for-4 from the plate with a triple, RBI and a run scored. Only one day before, he hit a solo home run in the bottom of the seventh inning for St. Lucie, a shot that propelled the Mets to a 5-4 come-from-behind win over Daytona.
This isn't a huge surprise because Tebow has always been known as an elite athlete, despite his inability to throw the football at a high level in the NFL. Keep in mind, he was a heck of a baseball player in high school as well. In fact, the Los Angeles Angels once expressed interest in drafting him, so him excelling at this level is not a huge shock.
Still, the question remains: Is Tebow a Major League Baseball player?
His athleticism and current hot streak aside, it doesn't seem like Alderson thinks so, and publicity stunts aside, a major league call-up in September — when MLB rosters expand to 40 players — is probably out of the books.
Of course, as Mike Florio of Pro Football Talk pointed out, Alderson didn't necessarily shut the door on Tebow playing for Mets, so anything is possible.
Yes, anything is indeed possible when we're talking about Tim Tebow.