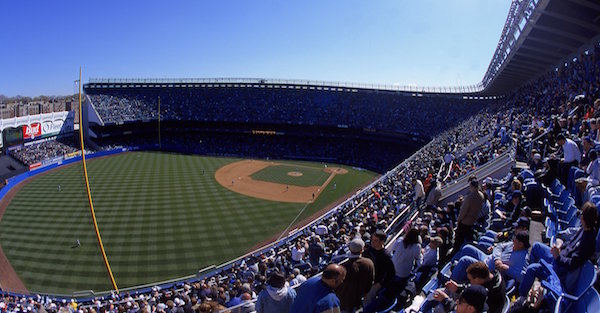 Al Bello/Getty Images
12 Apr 2000: A general view of the baseball diamond taken from left field during a game between the Texas Rangers and the New York Yankees at the Yankee Stadium in Bronx, New York. The Yankees defeated the Rangers 8-6. Mandatory Credit: Al Bello /Allsport
With the New York Yankees in full rebuild mode, Alex Rodriguez was the lone high-priced player to be left standing in the aftermath of the trade deadline.
According to the New York Daily News, A-Rod could be a casualty before the season is over, adding it "could happen" before the end of the regular season.
"I hope not," Rodriguez told the Daily News when asked about the story after not playing in the Yankees' 6-5 win over the Mets. "I want to play and think I can make a difference on the field and in the clubhouse."
Rodriguez is owed $21 million this season and $21 million next season. Just four home runs from 700, Rodriguez is just 2-for-25 with one home run and one RBI since July 16.
He has spent 22 season in Major League Baseball, registering 12 years with the Yankees, seven with the Seattle Mariners and three with the Texas Rangers. Rodriguez was suspended for the entire 2014 season as a result of the league's investigation into the controversial Biogenesis scandal, which touched on the possible use of performance-enhancing drugs.