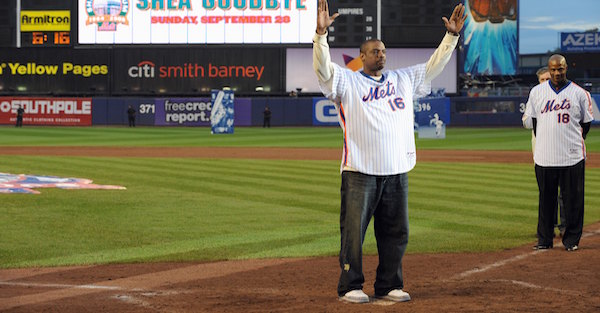 Al Bello/Getty Images
NEW YORK - SEPTEMBER 28: Former New York Mets players Dwight Doc Gooden waves to the fans at home plate after the game against the Florida Marlins to commemorate the last regular season baseball game ever played in Shea Stadium on September 28, 2008 in the Flushing neighborhood of the Queens borough of New York City. The Mets plan to start next season at their new stadium Citi Field after playing in Shea for over 44 years. (Photo by: Al Bello/Getty Images)
Dwight "Doc" Gooden is reportedly in bad shape, and former MLB teammate Darryl Strawberry is trying to help him recover from a cocaine addiction.
From an interview with the New York Daily News, Strawberry said he has, "to try something before he's dead."
"He's a complete junkie-addict," Strawberry said. "I've been trying behind the scenes to talk to him and get him to go for help, but he won't listen. He thinks he can manipulate and BS his way through everything. His son called me to beg me to help his dad before he dies.

"The condition Doc is in, it's bad, it's horrible. It's like cocaine poison. I feel like I've got to get it out there because nobody else is doing anything to help him, and it might be the only way to stop him."
According to the report, Gooden's cocaine problem drove away a woman he was in a relationship with for four years. It has gotten so bad, his children haven't even been able to talk Gooden out of exiting his apartment, which he'll lock himself into, per the report.
Gooden dealt with drug addiction problems during his playing career, which peaked during the 1995 suspension. He later reportedly contemplated suicide before his career truly fizzled. He has reportedly had issues with substance abuse since 2014 after years of sobriety, with those problems peaking after his mother passed away in July.
Gooden burst on the baseball scene in 1984 as a 19-year-old and won 17 games, then won the Cy Young Award as a 20-year-old when he went 24-4. He played 16 years in Major League Baseball with the New York Mets, New York Yankees, Cleveland Indians, Tampa Bay Devil Rays and Houston Astros.
He had a career 3.51 ERA with a 63 winning percentage with nearly 2,800 innings pitched.