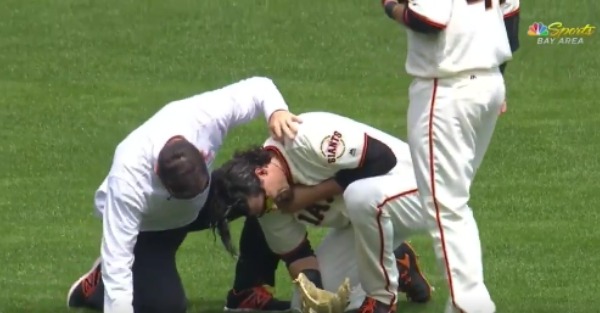 JIL Productions via Twitter
Jarrett Parker made an outstanding catch, and his reward is a trip to the disabled list.
On Saturday, the San Francisco Giants outfielder chased a drive by Colorado's DJ LeMahieu. Parker made a spectacular running catch, slammed into the wall – and immediately reacted in pain. He went to one knee, tried to run off the field, but went down again.
Now, we know why.
Parker suffered a broken collar bone and will be out of action eight weeks, according to San Francisco Giants manager Bruce Bochy, who told reporters after the game:
"He's probably looking at some kind of surgery to get it fixed. They do need to get it fixed, so this thing will heal quicker and we'll get him back sooner."