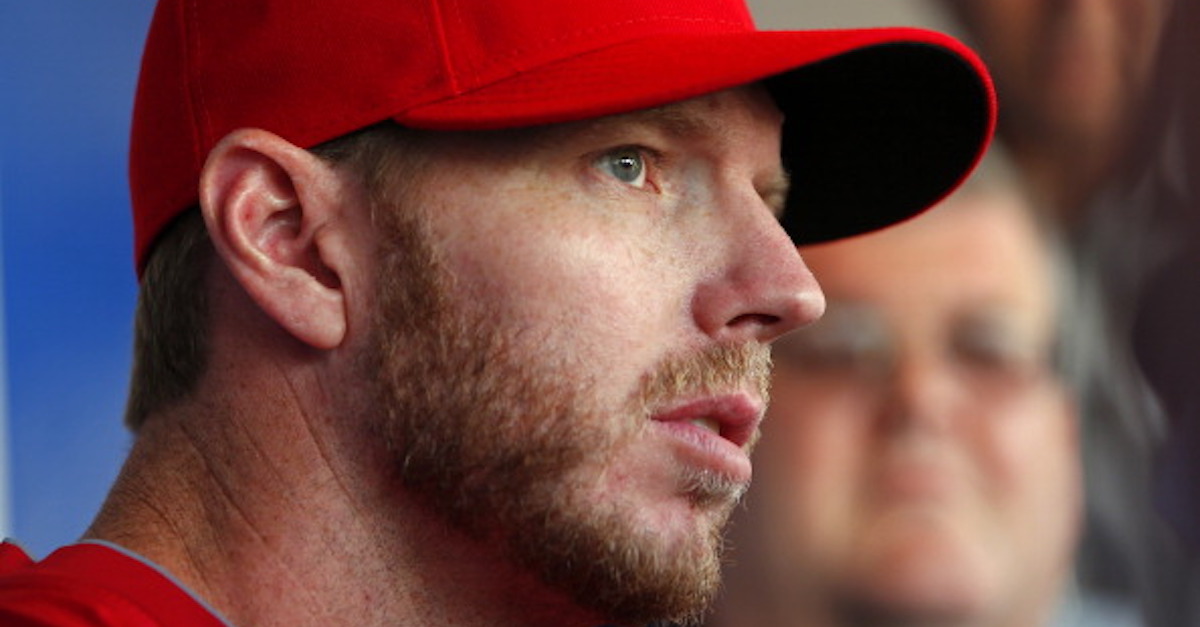 Rich Schultz/Getty Images
PHILADELPHIA, PA - JUNE 5: Pitcher Roy Halladay #34 of the Philadelphia Phillies talks about his recovery before the start of a MLB baseball game against the Miami Marlins on June 5, 2013 at Citizens Bank Park in Philadelphia, Pennsylvania. (Photo by Rich Schultz/Getty Images)
The toxicology results of former Cy Young pitcher Roy Halladay's autopsy report revealed that he had zolpidem (the generic name for Ambien), as well as morphine in his system during the time of the crash that led to his death earlier this year, according to TMZ Sports.
The report showed that Halladay's blood traced 72 ng/ml of zolpidem. According to TMZ, the FDA's official website claims that usage of more than 50 ng/ml of the medication "appears capable of impairing driving to a degree that increases the risk of a motor vehicle accident."
However, a source familiar with the autopsy told the website that the pitcher's results were consistent of someone using perscription medication.
Halladay's official cause of death was listed as blunt trauma and drowning, according to the report.
The autopsy also revealed that the former All-Star suffered a subdural hemorrhage during the crash, multiple rib fractures and a leg fracture, as well as lung, liver and spleen injuries.
TMZ released obtained footage of Halladay's plane prior to the crash that claimed his life 24 hours later and reported the pitcher was "showboating" through the air, according to multiple witnesses.
[Warning: NSFW language]
The footage was shot by onlooking boaters who told the website that Halladay's plane went from 100 feet in the air down to five at shocking patterns, which caused them to pull out their cell phones and record videos of the dips and rises.
Shortly after, the pitcher's plane crashed into the Gulf of Mexico, where a nearby boat full of witnesses rushed over in an attempt to help him. However, it was apparent that Halladay had already passed prior to their arrival, according to TMZ.
Several nearby boaters confirmed TMZ's report that the pitcher's plane was "dramatically increasing and decreasing in elevation." An additional witness added, "He was flying like that all week. Aggressively."
Halladay, 40, was a two-time Cy Young Award winner (2003, 2010) as a member of the Toronto Blue Jays and Philadelphia Phillies. He was also an eight-time all-star (2002, 2003, 2005, 2006, 2008-11) and led the league in wins twice (2003, 2010).
Halladay's most memorable performance came in Game 1 of the 2010 ALDS against the Cincinnati Reds in which he pitched the second no-hitter in postseason history, several months after pitching a perfect game in May.