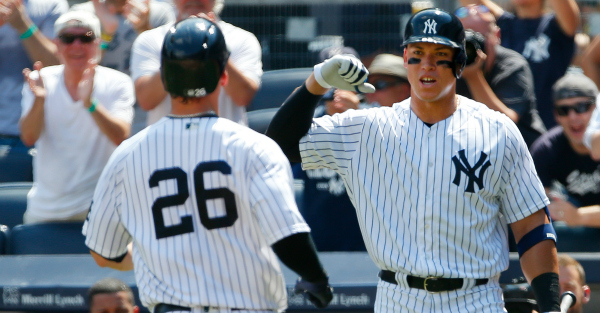 Rich Schultz/Getty Images
Tyler Austin #26 of the New York Yankees is congratulated by Aaron Judge #99 after Austin hit a home run in his first MLB at bat during the second inning of a game against the Tampa Bay Rays at Yankee Stadium on August 13, 2016 in the Bronx borough of New York City. (Photo by Rich Schultz/Getty Images)
Talk about a hot start! Two Yankees rookies made history against Tampa Bay on Saturday by hitting back-to-back home runs in their first career at-bats.
Yankees outfielder Tyler Austin was first, as he hit a homer down the right field line.
Austin was congratulated at home plate by fellow outfielder Aaron Judge, who must have been inspired by what he saw as he warmed up. Judge followed on the next at-bat by smashing a 440-foot blast to center field.
Both players haven't even been with the team a full day. They were called up late last night following the organization's release of Alex Rodriguez yesterday.
They helped the Yankees get off to a good start in the post A-Rod era. Both players also hit singles in the game, and Austin stole one base.
New York beat the Rays 8-4 in the game for their fourth consecutive win.