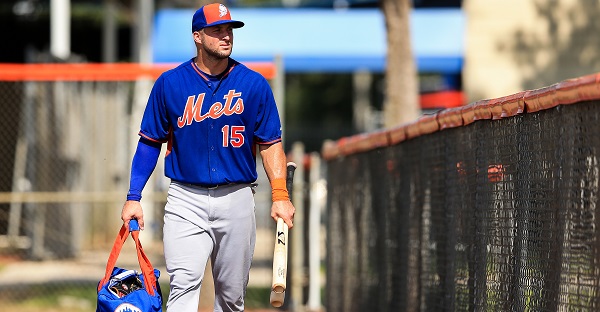 Rob Foldy/Getty Images
PORT ST. LUCIE, FL - SEPTEMBER 20: Tim Tebow #15 of the New York Mets works out at an instructional league day at Tradition Field on September 20, 2016 in Port St. Lucie, Florida. (Photo by Rob Foldy/Getty Images)
Tim Tebow is still playing minor league baseball, even if the attention has died down considerably from a national standpoint. The former Heisman Trophy winning quarterback is probably not a "prospect" in the truest sense of the word but, to be frank, Tebow is not embarrassing himself on the diamond and that is worth noting in the positive column.
On Thursday evening, though, "Tebowmania" briefly reappeared, as he preserved a win for the Columbia Fireflies over the Lexington Legends with a sliding catch in left field.
It should be noted that Tebow's diving effort was not the prettiest thing in the world but, as you may expect, he left the field to a hero's welcome and the camera followed him around to document the proceedings. In a game in which he hit sixth and started in the outfield, Tebow reached base only once but he continues to sport a 102 wRC+ over 148 plate appearances during the 2017 season. For the casual baseball fan, a 100 mark in that particular category would be considered average production, so Tebow is actually serving as a positive contributor.
At some point, Tebow will likely give this pursuit up as a 29-year-old with next to zero chance of making the Major Leagues. Still, he is pleasing people all over the minor league baseball world and seemingly having fun doing it.