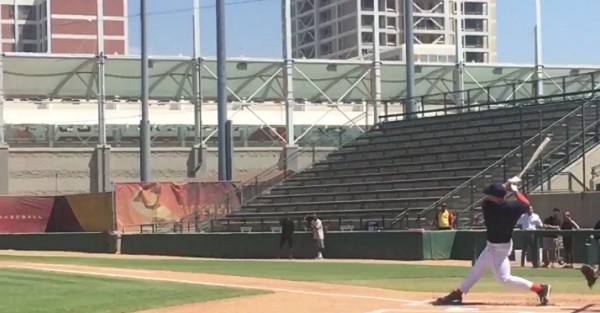 Twitter Screen Shot
RELATED: Tim Tebow has an offer to play baseball 0n a top winter league team
---
Tim Tebow had his long-awaited workout in front of scouts on Tuesday afternoon at USC, and he didn't look half bad. According to SI.com, reporters that covered the workout said he ran a 6.7-6.8 60-yard dash, which is right around the MLB average.
Tebow, who hasn't played in an NFL regular season game since 2012, is trying to start a baseball career. He's been training this summer in hopes of landing with a team, and has already received an offer to play winter ball of one of Venezuela's top squads.
The ex-quarterback also took batting practice and hit some bombs.
RELATED: Former MLB closer ?really impressed? after baseball workout with Tim Tebow
Tebow also fielded balls in the outfield for scouts.
Though reports say scouts opinions were mixed, the good news for Tebow is he reportedly has a few teams interested in signing him. This includes, among others, the Atlanta Braves.