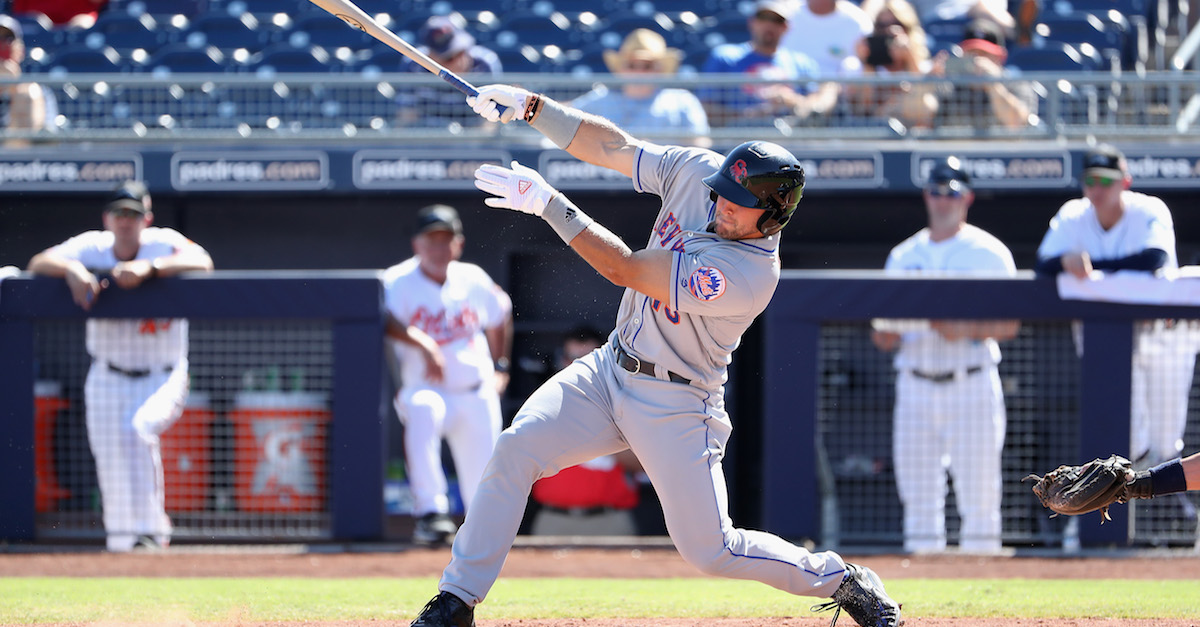 Christian Petersen/Getty Images)
PEORIA, AZ - OCTOBER 13: Tim Tebow #15 (New York Mets) of the Scottsdale Scorpions bats against the Peoria Javelinas during the Arizona Fall League game at Peoria Stadium on October 13, 2016 in Peoria, Arizona. (Photo by Christian Petersen/Getty Images)
Poor Tim Tebow. He's actually getting noticed on the baseball diamond for the Single A Columbia Fireflies, so much so that the New York Mets have considered promoting him to a tougher level of baseball.
But his star power still emanates from his time on the football field, — first as a college star with Florida, and then a short-lived pro career in Denver and with the New York Jets — and the Charleston River Dogs wouldn't let him forget one of his more infamous moments.
RELATED: In his first pro at bat, Tim Tebow crushed a home run.
When Columbia hitters were up, Charleston posted  graphic behind each player's picture that looked like this:
SEC fans will know what this is. As time wound down in the 2009 SEC Championship Game, the camera caught a distraught and emotional Tebow as his Florida Gators were about to lose to the Alabama Crimson Tide. Charleston picked the perfect moment to pull this out and do a little trolling.
Tebow, soon to turn 30, is in his first season of pro baseball at is slashing .224/.319/.338 with  three home runs and 21 RBI. He generated excitement when, in his first professional at bat, he hit a home run, and then went on a 16-game tear during which he had an .859 OPS (on base plus slugging percentage).
Baseball is not a game for the weak of heart — especially when the trolls are out.