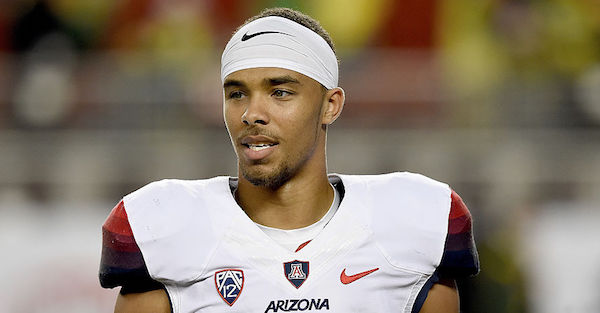 Thearon W. Henderson/Getty Images
SANTA CLARA, CA - DECEMBER 05: Trey Griffey #5 of the Arizona Wildcats looks on durng pregame warm ups prior to playing the Oregon Ducks in the Pac-12 Championship game at Levi's Stadium on December 5, 2014 in Santa Clara, California. (Photo by Thearon W. Henderson/Getty Images)
Trey Griffey might be more known for his relation to his famous father, Ken Griffey Jr. than for what he's done on the football field. However, he was good enough to get signed by the Indianapolis Colts despite not getting drafted by anyone. His career at Arizona was not quite spectacular with only six career touchdowns and 1,241 career receiving yards. Unfortunately, he won't be starting the season playing for the Colts either.
RELATED: Trey Griffey signs with Indianapolis Colts
The Colts have waived Griffey with the "injured" designation, which means he would land on the team's injured reserve list if he goes unclaimed by another team. There are two roads the Colts can take if he does go unclaimed. They can either wait until he heals to release him or they can reach an injury settlement to keep him off the IR completely.
[h/t Pro Football Talk]