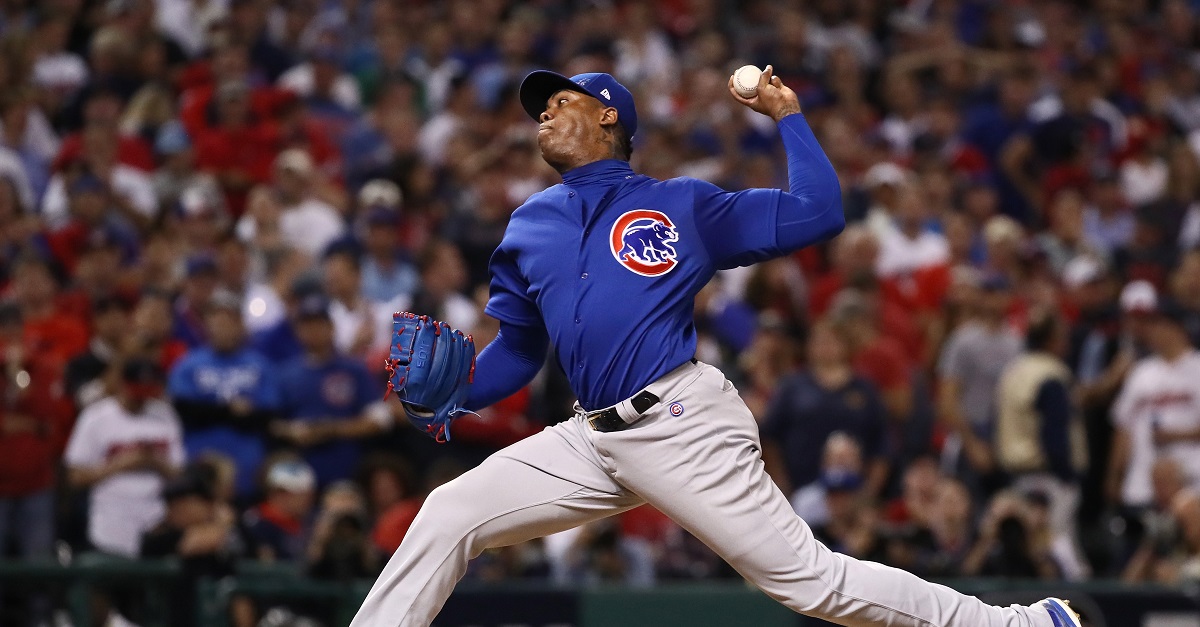 Ezra Shaw/Getty Images
CLEVELAND, OH - NOVEMBER 02: Aroldis Chapman #54 of the Chicago Cubs throws a pitch during the eighth inning against the Cleveland Indians in Game Seven of the 2016 World Series at Progressive Field on November 2, 2016 in Cleveland, Ohio. (Photo by Ezra Shaw/Getty Images)
Closer Aroldis Chapman is returning to the New York Yankees on a five-year, $86 million deal.
Related: The market for premier relievers if off to an insane start, and it's about to go crazy given what Aroldis Chapman wants
Chapman was suspended 30 games last season for a domestic violence incident, and he was the first player suspended under the MLB's new domestic violence policy. In October, after Chapman was traded to the Chicago Cubs, The Yankees tweeted out a video about the team's stance against domestic violence.
Chapman is probably the best closer in baseball, but the details of the incident are ugly. Though he was never charged with a crime, Chapman was accused of choking his girlfriend, Cristina Barnea, during an Oct. 30 argument at his Davie, Fla. home. Chapman broke a window of a car in the home's garage, and he picked up a handgun and fired eight rounds into the garage.
Chapman said in a statement after the suspension he didn't harm his girlfriend in any way.
"Today, I accepted a 30 game suspension from Major League Baseball resulting from my actions on October 30, 2015. I want to be clear, I did not in any way harm my girlfriend that evening. However, I should have exercised better judgment with respect to certain actions, and for that I am sorry. The decision to accept a suspension, as opposed to appealing one, was made after careful consideration. I made this decision in an effort to minimize the distractions that an appeal would cause the Yankees, my new teammates and most importantly, my family.
Chapman was traded to the Chicago Cubs last season and helped the Cubs win a World Series. He cannot be traded during the first three years of his new contract with the Yankees.