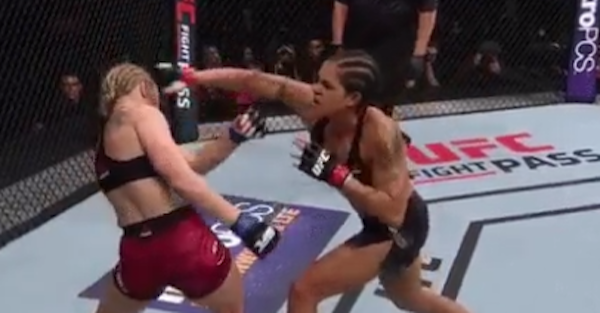 @UFC/twitter
Amanda Nunes (15-4) beat Valentina Shevchenko (14-3) by decision to retain her Bantamweight Championship at UFC 215 Saturday night from Edmonton, Alberta, Canada.
UFC 215 Round 1: Nunes-Shevchenko
The fighters opened the first round tentative with their striking, opting for inside leg kicks and snap jabs. Shevchenko attempted a takedown toward the end of the first frame, an attempt for points late, but Nunes stuffed it and tagged her for the most exciting action of a rather lackluster first round. Shevchenko's coaches looked at her left hand in between rounds, but it wasn't clear whether it was an injury or just adjusting her glove.
UFC 215 Round 2: Nunes-Shevchenko
Shevchenko was more aggressive to open the second round, connecting on a superman punch and looking for openings. Shevchenko went back to the well over and again with consecutive superman punches, and Nunes had no response other than to just eat them.
UFC 215 Round 3: Nunes-Shevchenko
Shevchenko continued her strong fight into the third round, with good head movement away from Nunes' punches and quick movement to counter the champ. Nunes very much paces herself, unwilling to attack quickly how she had against the likes of Ronda Rousey and Miesha Tate. She was well aware how her last fight against Shevchenko nearly ended, with a decision victory as she faded late. With three rounds in the books, it will be interesting to see if Nunes picks it up in the fourth round.
UFC 215 Round 4: Nunes-Shevchenko
For the first time in her UFC career, a Nunes fight went to the championship round 4. A confident Nunes came out firing in the third round, clearly energized by a truly strong third round. Shevchenko popped Nunes early, and the two traded blows for the first half of the round. Nunes was clearly frustrated with Shevchenko's counters and the challenger connected on blow after blow.
UFC 215 Round 5: Nunes-Shevchenko
In the fifth and final round, Nunes was much more aggressive with quick strikes and leg kicks. They quickly settled back into the technical aspect of the bout and fans booed a bit due to lack of action. Failed throw late in the fifth round by Shevchenko led to a takedown by Nunes, which may have been the deciding factor in the fight.
Nunes came into Saturday night's bout winning her last five consecutive fights. She rolled through the bantamweight division, taking out the likes of Shayna Baszler (TKO), Sara McMann (submission), Shevchenko (decision), Miesha Tate (submission) and Ronda Rousey (TKO).
Her last loss came in September 2014 at the elbows and punches of Cat Zingano (TKO).
Shevchenko had only lost one fight coming into her championship bout in her last eight bouts — to Nunes back in March 2016 by decision.
Shevchenko won both of her last two fights by submission against Julianna Pena and by decision against Holly Holm.
This comes after Nunes pulled out of the UFC 213 main event due to two hospital visits which resulted in her bailing from her bantamweight title defense against Shevchenko.
About three hours before the card started, UFC president Dana White said the bout would not go on.
Here?s what White said, via ESPN:
?Yesterday, she started to not feel good, so we took her to [the] hospital,? White said early Saturday evening on SportsCenter. ?[The doctor] did a full evaluation and she was medically cleared to fight. She weighed in at the ceremonial weigh-in [Friday] and squared off with Shevcheko, then went home last night.

?This morning, [Nunes] called again and said she didn?t feel good. So they brought her back in [to the hospital] and started running tests on her, and she said she didn?t want to fight ? she didn?t feel good and didn?t want to fight. She was medically cleared to fight, was checked and everything was fine, but she said she didn?t feel right.?
A frustrated Shevchenko later took to Instagram to call out Nunes:
?Today I am 100% ready for this fight. During the last 3 months of training I did everything to be in my best shape for this fight. Nunes couldn?t cut weight correctly and was hospitalized. She wanted to cut weight and recover rapidly to have the advantage. The end result, everything went wrong. Even though she was medically cleared to fight, she backed out. This fight was originally offered to take place in April and she would not accept then. I did my part and am very upset that I can?t fight for the title today on this great event. I am even more upset for all my dear fans who support me every time throughout the world and to those who traveled to see me fight here in Las Vegas live. I feel frustrated about what happened but I won?t relax, will not put down energy in my preparation, and will wait until the UFC gives us another date for the fight. #UFC213 #teamBullet?
Despite being cleared by doctors, twice apparently, the fight was called and moved back to September.
We're not certain if Nunes was completely over her sinusitis since she walked out wearing what appeared to be a breathing strip over her nose.