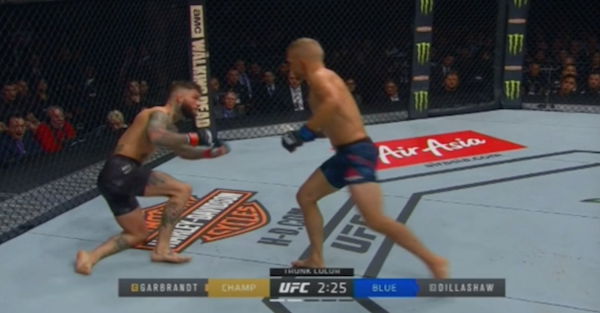 UFC screenshot
T.J. Dillashaw (15-3) stunned Cody Garbrandt (11-1) with a nasty right to win the Bantamweight Championship at UFC 217 at Madison Square Garden in New York City.
Round 1
After a tense staredown, the fighters refused to touch gloves and the fight was off.
Garbrandt was all over the place, while Dillashaw seemed calm and collected early on. Garbrandt landed a vicious left hook and backed Dillashaw into the cage, then called for him to come forward.
Dillashaw caught Garbrandt with a kick to the body and a spinning backfist. Garbrandt missed wildly, but hit a right to the jaw that sent Dillashaw sprawling to the mat before the end of the round.
Round 2
Dillashaw connected on a kick to the jaw that sent Garbrandt falling backwards, but he popped right back up and called for Dillashaw to come forward.
Dillashaw caught Garbrandt again with a swift right hook and sent him sprawling before getting the finish by ref stoppage.
Garbrandt is a heavy-handed finisher, winning nine of his 11 bouts by knockout or TKO.
Dillashaw won two of his last three fights, with his lone loss coming at the hands of former champion Dominick Cruz.
Garbrandt and Dillashaw were once teammates at Team Alpha Male before the latter bounced for Elevation Fight Team.
FanBuzz has coverage of UFC 217 on our MMA page.