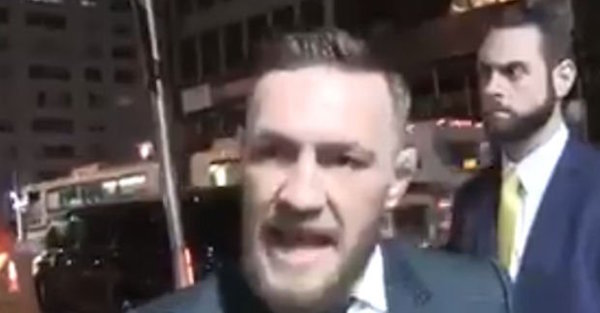 @SevereMMA/Twitter
@SevereMMA/Twitter
UFC lightweight and featherweight champion Conor McGregor acknowledged the social media teasing by boxing legend Floyd Mayweather regarding a potential rematch of their fight in August during an appearance in New York on Wednesday.
McGregor was in town for charity wrk involving a Children's Hospital in his home town and spoke with video journalist Adam Glyn after the event.
"I'd do as I'd please against him," McGregor said of a potential rematch under MMA rules. "But if he does do it, I know he's flirting with it, I would have respect for him. I think it would get his earned respect then if he was to step in [the Octagon.]
McGregor confirmed that Mayweather is one of many potential opponents he could face this year after announcing his plans to return to MMA in December for his next fight following his transition to boxing in order to face Mayweather last year.
"He's engaging, we're engaging, so we'll see," McGregor said. "I'm currently in negotiations to face my next opponent and we have many options. There's the [winner of the upcoming fight to decide the] interim lightweight champion, there's the undefeated Dagestani [Khabib Nurmagomedov], maybe it would be a big Russian event, there's obviously the [Nate] Diaz trilogy, of course the Mayweather fight is there. There's many options so we're just at the table at the moment."
McGregor added that it was Mayweather's "time now" to step up and accept the rules of the potential fight after teasing it earlier this week.
McGregor also commented on former UFC Bantamweight champion Ronda Rousey's signing with WWE following her official debut at the Royal Rumble event on Sunday.
?I?m delighted for her. Absolutely over the moon for her," McGregor said. "She looked like she really enjoyed herself at the event and I was very, very happy to see her. She?s a pioneer for the game and she came through it all and faced big wins and big, big losses and she came through it. It?s great to see her represent herself and mixed martial arts and have fun in the WWE. I know she?s been a big fan all her life. It?s great to see that.?
As for the potential fight, surely there will be plenty more speculation coming until an official announcement is made.