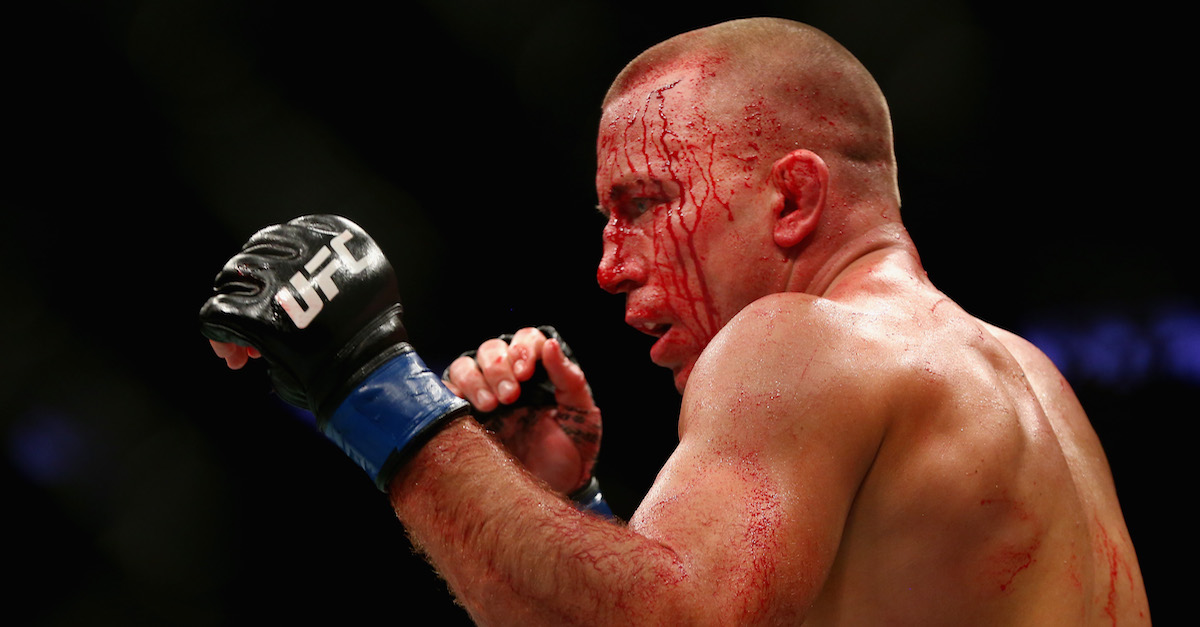 Mike Stobe/Getty Images
NEW YORK, NY - NOVEMBER 04: Georges St-Pierre of Canada fights Michael Bisping of England in their UFC middleweight championship bout during the UFC 217 event at Madison Square Garden on November 4, 2017 in New York City. (Photo by Mike Stobe/Getty Images)
UFC president Dana White is a promoter, and sometimes promoters say things to try and get attention to the product.
That said, make no mistake about White's statement about Georges St-Pierre, as White and the UFC probably aren't happy about this one.
St-Pierre, fighting for the first time since 2013, defeated UFC middleweight champion Michael Bisping back in November, but St. Pierre has since vacated the title citing an illness (colitis). White, who said that he had put a mandatory title defense clause in St. Pierre's contract, was not happy about the vacating of the title and believes that St. Pierre only came back for a blatant, one-fight cash grab.
White's full quote to ESPN:
"There is no status," White told ESPN. "I knew what he was doing. That's why I put [a mandatory title defense] into his contract. We both knew what was going on.

"I don't know, man. I don't think the guy wants to fight. I think he jumped in, grabbed some cash and went back to Canada."
Robert Whittaker, who was holding the interim middleweight belt at the time that St-Pierre won the official middleweight belt from Bisping, has simply been named the undisputed champion.
It's unclear where St-Pierre and UFC could go from here, but the rumors are that UFC would want to set up a superfight between St. Pierre and Conor McGregor at 170 pounds (welterweight). However, White was adamant against those rumors being true.
"He ain't fighting Conor McGregor," White said. "If he wants to come back, [UFC welterweight champion] Tyron Woodley or [middleweight champion] Robert Whittaker is waiting for him. They're both waiting, if Georges wants to come back."
St. Pierre (26-2) is one of the best fighters and best money draws in the history of UFC. The Quebec native hasn't lost a fight since 2007, and he is one of only four competitors to win a title in multiple UFC weight classes, having won the welterweight and middleweight championships.